PRESS RELEASE
True North Gear celebrates 25 years of passion & perserverance
---
SEATTLE — True North Gear® is a family-owned and operated company founded in 1992 by Alyx Fier. In the 25 years they have been in business, True North® has grown from a one-man operation to an ISO 9001 registered company whose products are distributed worldwide. Though the company has grown, True North® is still headquartered in Seattle, Washington just up the street from the garage where they started. The following statement from True North® Founder & CEO Alyx Fier celebrates the company's 25 years in business.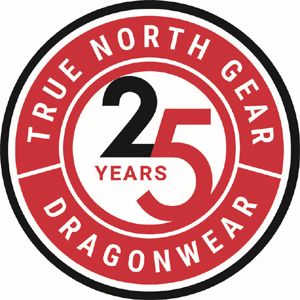 Passion and Perseverence
Looking back on the last 25 years of the joys and challenges associated with running a business, I was reminded of when I came up with the concept of our patented load-trapping pack design, which was the foundation of True North. The inspiration was simple, but the implementation was complex. At the time I was working as a carpenter and had zero experience with pack design or sewing of any kind. I started out by studying the packs I owned to learn design and construction techniques; seam allowances, pocket attachment, zipper placement. After that, I dismantled my simplest pack and sewed it back together again. It sounds simple, but at the time it was a nerve wracking experience. I bought a basic home sewing machine from Goodwill and would turn the fly-wheel by hand when working on the heavier fabrics and webbing because the motor was so small. Over the next 6 months of working nights and weekends, I taught myself pack design and prototype sewing through trial and error on my under-powered sewing machine and using pizza boxes to make patterns. Sitting alone in the garage night after night, I remember almost crying with frustration from the challenge of sewing my first packs. Now, 25 years later, we have a design room with CAD programs for design, plotters to print and cut the pattern pieces in minutes, and a room full of specialized sewing machines to turn out prototypes. So much has changed since our beginnings, but what hasn't changed is the passion to create innovative, highly functional designs and the perseverance required to work through the often frustrating process of trial and error until we get it right.
About True North Gear
True North Gear® is a trusted source for quality packs, bags and FR clothing for over 20 years. We design and manufacture gear and accessories for wildland fire, structure fire, and search & rescue markets, while our partner brand DragonWear™ supplies performance-based FR/AR clothing to the fire, utilities, industrial safety and petro chemical industries. every True North® product is built to excel in the harsh conditions of demanding, everyday use. Product innovation and design are just starting points; what truly distinguishes True North® is superior customer service backed up by a lifetime materials warranty.

Request more info from True North Gear
Thank You!