1K+ San Diego FFs exposed to asbestos at training facility
An investigation revealed that, despite warnings, the City of San Diego failed to mitigate asbestos within fire academy buildings
---
By Jessie Forand
SAN DIEGO — An investigation by San Diego County's Air Pollution Control District (ACPD) found that more than 1,000 firefighters were exposed to dangerous levels of asbestos present in local fire academy buildings.
Children, who attended camps in the buildings, were also exposed.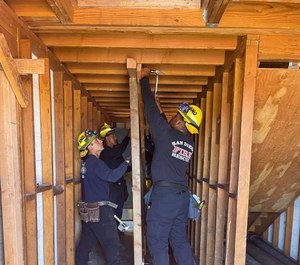 The ACPD investigation confirmed hazardous asbestos levels were found in buildings, and "despite warning over the years, the city did not address the issue," NBC 7 reported.
Firefighters now train elsewhere, Jesse Conner, president of San Diego City Firefighters IAFF Local 145, said, adding that "some targeted mitigation efforts have occurred, and new training props have been built as an interim solution to continuing training new firefighters until the city decides on a more permanent solution."
In 2019, NBC 7 acquired documents that revealed the City of San Diego delayed addressing the asbestos issue, as well as additional hazards, including lead found in the floors, walls and ceilings of the fire training facilities, which were converted from military naval buildings.
According to ACPD public records, the city "minimized and failed to disclose the dangers of asbestos and lead present in the training facility buildings."
Years of warnings did not prompt the city to address the issue, the ACPD said, and a letter from the agency to the city in August 2019 explained the municipality could face up to $80 million in fines.
The city disputed the claims of negligence, claiming the reports of asbestos were immediately addresed.
The APCD disagrees. 
"San Diego City Firefighters are terribly disappointed by the historic mishandling of asbestos at NTC as it unnecessarily exposed not only our personnel but many people outside our ranks to carcinogens," Conner told NBC 7. "We're committed to continuing to work with the city to notify those exposed, provide treatment for any of our members who may become sick as a result and implement protections to ensure something like this never happens again."