Ala. firefighting recruits started their first day on 9/11 anniversary
The addition of over 60 recruits will bring staffing in Birmingham up to over 700 full-time positions
---
By Carol Robinson
al.com
BIRMINGHAM, Ala. — More than 60 recruits started their careers as Birmingham firefighters Monday as a nation remembered and mourned the thousands killed 22 years ago in the 9/11 attacks – including 343 firefighters.
The 63 Birmingham Fire and Rescue Service recruits started the academy Monday, bringing BFRS up to full staff.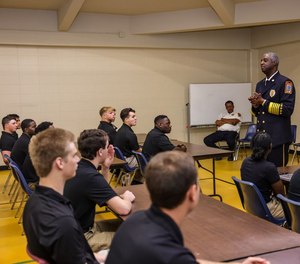 The department is budgeted for 707 full-time positions and this recruit calls will fill out all of those positions.
"Making sure that we have adequate staffing levels is essential for us to continue fulfilling our mission of providing rapid, reliable, professional emergency services to the city of Birmingham,'' said Chief Cory Moon.
"We're excited to have all of these new recruits join our family and start their journey with BFRS,'' Moon said.
BFRS has hired 301 new personnel in the last years. The 63 new recruits bring that number to 364.
The agency also recently promoted 32 new sergeants, and 12 firefighters completed the Advanced EMT course taught by BFRS.
"Our recruiting and retention efforts are paying off,'' Moon said.
Firefighter training includes learning about fire behavior, firefighting strategy and tactics, building construction, and motor vehicle extrication. Each recruit will receive state certification as a firefighter.
The recruits will also receive training in emergency medical services, such as patient assessment, CPR, and patient care. They will qualify to take the National Registry Exam, which will allow them to become licensed emergency medical providers.
The entire recruit academy takes approximately 5 ½ months to complete.
Last year, Birmingham Fire and Rescue Service responded to a total of 73,007 calls. So far this year, the department had responded to 47,101 calls as of Sept. 1, 2023.
©2023 Advance Local Media LLC.
Visit al.com.
Distributed by Tribune Content Agency, LLC.
McClatchy-Tribune News Service