Fire service icon Chief Glenn Gaines dies
USFA deputy administrator and retired fire chief Gaines died unexpectedly at his home Sunday
---
Editor's note: As we reflect on the sad and untimely loss of one of the fire service's leading thinkers and doers, please use the comment section below to share your memories of Chief Gaines. In the related stories box, you'll find several pieces that he wrote for us. Our hearts go out to his family, friends and all of the firefighters he touched.
LANSDOWNE, Va. — Deputy U.S. Fire Administrator Glenn Gaines died Sunday while mowing his lawn. He was 72.
Chief Gaines was a decorated, leading figure in the fire service. The 35-year veteran was appointed to USFA in 2009 and oversaw the agency's programs and training at the National Emergency Training Center.
Chief Gaines served with the Assistance to Firefighters Grant Program for the Department of Homeland Security from its inception in 2001 until 2009. He was a principal architect and member of the senior staff for three of the primary grants managed by FEMA's Grants Program Office, and was the agency's lead in developing the Staffing for Adequate Fire and Emergency Response Grant Program in 2005.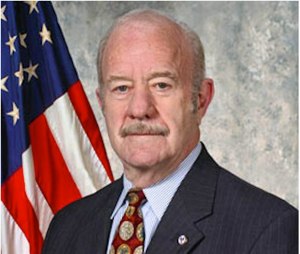 He began his career at Fairfax County (Va.) Fire and Rescue Department and served as fire chief, fire marshal, chief training officer and chief of operations. He oversaw the department's urban search and rescue team that was often deployed nationally and internationally. 
Among his awards are the International Association of Fire Chief's award for meritorious service, IAFC's metropolitan fire chiefs president's award of distinction, and the metropolitan fire chief's lifetime achievement award.
He served as a faculty member at USFA's National Fire Academy and held a degree in fire administration. He was a frequent contributor to industry trade publications including Fire Chief and FireRescue1.
"In addition to the tremendous leadership he demonstrated at the U.S. Fire Administration, just about everyone in the nation's fire service knew Glenn," U.S. Fire Administrator Ernie Mitchel said. "There are few firefighters or departments that haven't been touched – directly or indirectly – by this extraordinary fire chief throughout his career."
A neighbor saw Chief Gaines collapse, called 911 and initiated CPR. Responding units were unable to resuscitate Chief Gaines.
"My first impression of him was a bit intimidating," Chief Billy Goldfeder wrote for FirefighterCloseCalls' Secret List. "See, he was a quiet man who spoke when something needed to be said. And he was a listener.
"So while I was trying to 'read' him — little did I know that he was far from a man who would be intimidating — but one that was simply a quiet and very intelligent listening leader, who, when he had something to say, the room stopped and listened. Everyone listened when Glenn had something to say.
"Glenn was hilarious, in his subtle, dry way, his comments, thoughts and observations about life and firefighters would make you burst out laughing — funny stuff that you rarely saw coming," Goldfeder wrote. "Something else you wouldn't see coming-his ability to bench press over 300 pounds and he was a gold medal winner at the Police and Fire Games."
The viewing will be held Thursday from 2:00 to 4:00 p.m. and again from 6:00 to 8:00 p.m. at the McLean Bible Church, 8925 Leesburg Pike, Vienna, Va. Funeral services will be held on Friday at 11:00 a.m., also at the McLean Bible Church.