Fla. chief, union, city leaders push for more training, staffing after FF's death
Apopka Fire Chief Sean Wylam wants new ambulances, gear and firefighters, but the local union leader wants a dedicated training officer
---
By Leila Merrill
APOPKA, Fla. — Apopka's chief and union and city leaders have been voicing safety concerns and pushing for changes to prevent another incident like that one that killed Firefighter Austin Duran, 25, WESH reported.
He died weeks after being severely injured on the job when a heavy trailer of sand fell on him on June 30.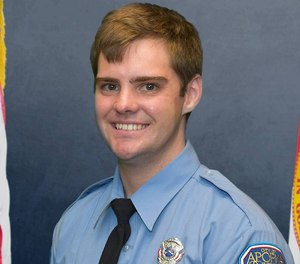 Citing safety concerns, Apopka Fire Chief Sean Wylam laid out a list of needs for the department at Monday's city council budget meeting: help replacing two ambulances, funding for new gear and to hire more firefighters.
But some commissioners took issue.
"None of your budget, at least with what I'm looking at, has anything to do with training ... that's concerning," commissioner Nick Nesta said.
Wylam said the firefighters have numerous training courses.
Commissioners Nesta and Diane Velazquez pointed out that the safety committee has not met since Duran's death.
Apopka union president Alex Kleppler says the department needs to hire a dedicated training officer.
"I just put my brother in the ground," he said. "It's been a month since he died, and absolutely nothing was done to fix the environment and operational weaknesses that led to it."
Kleppler said that more than half the department's firefighters have five years of experience or less.