New NYPD fire response protocol bans elevator use
Officer Dennis Guerra's death exposed the lack of NYPD protocol covering instances in which officers arrive at fire scenes before firefighters
---
NEW YORK — NYPD issued a revised protocol that requires stairs to be used at all times while responding to building fires.
"Responding units must use the stairs," read a three-page "Finest" message in which Chief of Department Philip Banks outlines the new fire response procedures, the NY Daily News reports.
In a message released following the death of Police Officer Dennis Guerra, who died of injuries suffered after using an elevator to reach a high-rise fire, Chief Banks has advised officers to "walk up to a reported fire whenever possible," according to the report.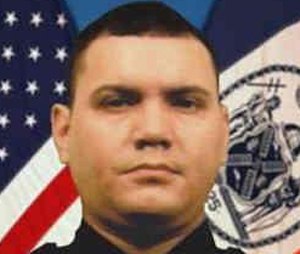 Banks urged officers who choose to use elevators to use their flashlights to check for smoke in the elevator shaft, stop the elevator every five floors to continue checking the shaft for smoke and to take the elevator no closer than two floors beneath the fire, according to the report.

Officers Dennis Guerra and Rosa Rodriguez responded to an April 6 fire in a housing project in Coney Island. They arrived before firefighters and took an elevator directly to the 13th floor, where the fire was burning.
They were overcome by heavy smoke when the elevator door opened and were unable to retreat. Firefighters rescued them, but Guerra died of his injuries.
Officer Rodriguez is still recovering in a hospital burn unit. Officer Guerra's death exposed the lack of NYPD protocol covering instances in which officers arrive at fire scenes before firefighters, according to the report.
"We definitely took into account what [the FDNY] does when responding to fires," NYPD Deputy Chief Kim Royster said. "Out of that conversation came that police would use the stairs. This is the safest way to respond to fires."