Training the chiefs: Where chief officers should focus their time and effort
As busy as "chiefing" can be these days, tactical firefighting chief-level training is more relevant now than ever
---
As I approach the age of 68, I am very conscientious about my career roles and responsibilities – a high priority but one that always comes second to my family. I take my job very seriously, be it on a fire scene, when I am delivering training or when I am attending training – and I still to this day take every class I can related to my role as a fireground boss.
It really is important that I remain aware of and trained on the most relevant, proven tactics related to running a division, command or sector. And I may often be the most aggressive student because I have quite the number of "files" (in my memory) that sometimes have to be erased and replaced with what we are expected to do now. It's not easy, but it's very doable and, quite frankly, must be done if I want to keep going. 
There has perhaps never been a more dangerous time for a company or chief officer to rest on their laurels – to be satisfied with past training and success and do nothing to achieve further success, basically just relying on what you already know. If you are going to do the job, continued training a MUST.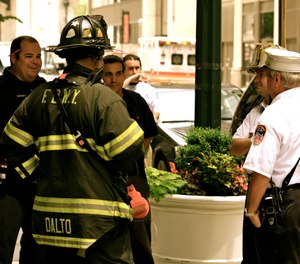 What you already know probably doesn't apply to what the chemical, construction and manufacturing industries are already cranking out. Odds are that 2 years ago, you had zero clue about the impact of lithium-ion batteries and how they would turn us on our heads. 
Company officers, if there is training, you should be there. But what about the chiefs? Are they at the same training? Are they stretching lines and venting roofs during training? If so, stop. Training needs to be what YOU as a chief officer will be doing at the next fire. Train on your role and responsibility. For example, if there are a few companies drilling on stretching lines or operating at the burn building, then chiefs should be drilling on what they do at those fires – running command, running a division. 
Let's play ball
Have you ever seen a pro football team coach gearing up and practicing plays on the field? Don't bet on it. Bet on the coach doing what they do during the game – COACHING. Focus on training and doing what YOU are expected to do at the emergency. Don't vent roofs, don't pull ceilings, don't stretch lines – that's what the firefighters and company officers do.
The chiefs who don't attend training on a regular basis, who don't review strategies and tactics and who fail to ensure their policies align, are setting themselves up for failure – and a failure for those whom they command. Again, with a football analogy, there is not a successful pro football team coach who isn't attending training with the players to ensure that they are all in sync.
Don't like sports? No problem. Look at music. Find a successful orchestra where the conductor or band leader doesn't attend training with the members. You won't find it. The band CANNOT succeed when the leader isn't part of every aspect of practicing and playing. 
Chiefs at training
Everyone is busy. Chiefs attend budget meetings, council meetings and all the other stuff chiefs do, but any chief officers who is going to respond to fires and assume a command role has no choice but to also attend command-level training on a regular basis. So much is changing, and their skills must match what they are going to do when arriving on scene. 
Unfortunately, there are chiefs who haven't attended relevant tactical training in years but still show up at incidents and take command. When that happens, the equation leads to some scary outcomes. The disconnect – and potential bad outcome – is very predictable. 
Are we saying that command must always be taken by an arriving senior or higher-ranking chief from a lower ranking chief? Nope. If the incident is going well, let it keep going well and support the IC. Ask the IC what they need done and do that. A rule of thumb is to take command when doing so can improve the incident; otherwise, why change the operation? 
The purpose of these thoughts is not the "take command/don't take command" discussion. The purpose is to consider whether the person establishing or taking command is attending regular, applicable training that matches the incident and what the companies on the fireground are expected to perform.
All those years of training and experience absolutely count – that's how chiefs become chiefs. But that training cannot stop. Just look around your response area – from big-box stores to wooden high rises to lithium-ion batteries and e-vehicles to even lighter construction (and everything that is burning in the stores and dwellings), plus the fact that the number of fires in North America is going UP, then add those people who fight progressive fire codes each and every day. Put it all together and it's easy to see why regular tactical fire chief command and chief division supervisor level training is essential.