W.Va. county training center keeps firefighters up-to-date on life-saving skills
The Fayette County Firefighter Training Center offers a wide range of lessons for firefighters
---
By Steve Keenan
The Register-Herald
FAYETTE COUNTY, W.Va. — As traffic streamed by on Gauley Mountain, Fayette County firefighters forged ahead with a training mission directed at creating safer conditions for themselves and the public they serve.
On Sept. 19 at the Fayette County Firefighter Training Center on U.S. 60 near Gauley Bridge, firefighters participated in another round of flashover simulator training.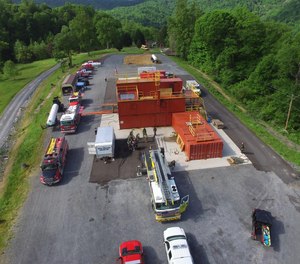 Departments participating last week included Rainelle, Mount Hope, Fayetteville, Loup Creek, Nuttall, Boomer, Armstrong Creek and Ansted.
"We're having departments from all over the county, and the new firefighters will be learning fire behavior, fire growth, fire travel, as well as ventilation and how to control fire with ventilation and very minimal water," explained John McGinnis, director of the Nicholas County Office of Homeland Security and an Oak Hill Fire Department member. "It's ultimately going to keep them safe in a real life structure fire."
"We're actually going to start doing this once a month with doing different classes, and this is just our first step tonight," McGinnis continued. "As you can see, we've got work going on over there where the dozer is. That's our new hazardous materials training site. We actually have got rail cars coming in, so it's going to be a top-notch (training site) here within a month."
"Anybody that's going into a burning building in fire conditions needs to understand the fire conditions," said Steve Cruikshank, interim Fayette County fire coordinator. "There's actually a science; not a perfect science like everything else, it's not math.
"This flashover condition is a dangerous condition, just like we've got another backdraft simulator. If you don't recognize that as it's coming on, you're gonna get caught. So you need to understand the conditions."
"With the flashover, we control that whole thing without a drop of water," Cruikshank added. "It's all ventilation.
"If you go into a super-heated (scenario) and the heat rises, if you just go in and throw a bunch of water on the ceiling, it causes an equilibrium in the room, and instead of it being livable down here, you're bringing all the heat down. The whole room's the same, and it's too much. Your gear can only protect you so much. You're getting over 1,000 degrees and stuff like that, you bring that down on you, it's very dangerous."
The simulation situations are more desirable for new firefighters, particularly, than having to undergo real-life "on the job" training immediately, he stressed.
"Our goal is everybody goes home," said Cruikshank. "And we're running to the fire; it's just a dangerous situation. The more control you have, the more understanding of what you're getting yourself into.
"Just standing outside, you can look and learn a lot from the smoke conditions. It can tell you what's going to happen when you see the smoke, and we try to teach that."
Pat Gray, deputy chief of the Ansted Fire Department with 36 years in fire service, as well as president of the Fayette County Board of Education, says, "This training center is really important; it's something that you don't find just in every county of West Virginia. It's pretty unique.
"There are some other training facilities in the state, but what we would like to have here is something that encompasses a lot of different fire and emergency-type trainings, whether it's the structure fire side of this or it's the extrication and hazardous materials. We have plans for rescue training here.
"Today in the fire service, we're expected to respond to almost any emergency that's out there, so the requirements for our training is continuous.
"What we're required to do as a fire department to stay certified has just continually gotten more and more, the training has increased, so having a facility like this right in our back yard is incredible."
At the same time one group of firefighters last week was involved in flashover training, the other group of firefighters was engaged in forcible entry training utilizing a prop that can be reused, Cruikshank noted. "This (forcible entry tool) teaches you the best ways to do it, the quickest ways, the ways to do less damage. Sometimes you may not have a real bad condition, but you've got to get inside to find out what you've got."
The training center recently took ownership of two Fayette County Schools buses that had outlived their usefulness and were donated by the board of education.
"Once a bus gets to end of life and we've really got all the usefulness out of it (can't transport or be used for parts), it's got to be disposed of in some manner," said Gray. "So there's another purpose, another life for it that we can use it here at the training center.
"The county, as we identify buses that are able to be disposed of, we can donate those to the training center to be used for heavy extrication drills. That's something you don't think about, having access to something like that to train on. It's not every day you can get one of those.
"By this partnership of the board of education being able to hand off this to the training center for the county departments, it's really pretty important for us."
There was paperwork involved in transfer of ownership, but there was no cost to the (non-profit) training center for the buses, Gray said.
"It gives us the ability to either have classes at our fire school for that, or just for county members or whatever the need is," Gray said. "We have a lot of turnover in the fire service. It's not just like one time and you're done. We want to continue that partnership into the future as much as possible."
"Pat plays a big part in both organizations, not only being a board member but he's deputy chief at Ansted," McGinnis said. "We were lucky enough that the board of education donated us two buses, so we'll be able to train all of the firefighters in the county on patient removal out of buses and, if we do have to extricate students, we can do that the correct way."
Pre-planning on training sessions with the buses will begin soon, McGinnis noted.
"We've got a good relationship with the board office both ways," said McGinnis. "They've helped us out several times, and we've helped them.
"Any time there's a disaster anywhere in the county (FCS Superintendent Gary) Hough's the first one to open up doors or if we need buses ... It's good to have a good relationship with the board."
"Besides the school buses, we've got all these rafting buses, and they're going down bad roads," said Cruikshank. "Extricating people that are trapped in a bus is different than people trapped in a car. It's really getting complex nowadays with the electric vehicles, high-voltage; just cutting into the wrong wires when you're trying to get somebody out can kill you."
The goal is to deliver instruction on "the easy, efficient, quick way" to extricate individuals, and "that's something you don't really get a lot of chance (to train)," Cruikshank said. "We certainly appreciate (the board's donation). It's in their interests and our interests both."
----Officials say the training center continues to be an integral tool for fire safety in the county and elsewhere.
"It's part of the insurance services that keeps residents' insurance rates (lower)," McGinnis said. "We have to do so much mutual aid training with other departments every quarter. By knocking these out once a month, it's going to help us tremendously; it's going to give all the departments credits."
Many of the departments participating in training last week arrived at the center after responding to an abandoned house fire at Armstrong Creek, McGinnis pointed out.
"We want everybody to come see this and look at the opportunity we have to train our own firefighters in the county," he said. "It's saving the taxpayers a lot of money. It's a very valuable tool for the firefighters of Fayette County." "It gives (county residents) a better-trained (response crew)," Cruikshank stressed. "When we show up, we want to be well-trained and be able to do the best job we can for them. We care."
"These guys and girls are doing this in most cases for no pay," he added.
A fire levy currently in place in the county is a major boost, as well, Cruikshank noted. "I can remember when we had to spend all our time just begging money to operate. That's really why we started the levy; we needed to be spending our time training, for the people and for ourselves."
(c)2023 The Register-Herald (Beckley, W.Va.)
Visit The Register-Herald (Beckley, W.Va.) at www.register-herald.com
Distributed by Tribune Content Agency, LLC.
McClatchy-Tribune News Service