Fire damages several historic downtown buildings in Ga. city
Firefighters from several FDs battled a fire involving buildings over 100 years old in the historic Covington square
---
By Caroline Silva
The Atlanta Journal-Constitution
COVINGTON, Ga. — Firefighters worked for hours to contain a blaze in Covington that tore through its historic center Friday night.
No injuries were reported, but areas of downtown Covington will remain closed through the weekend as authorities assess the damage, a spokesperson for the city said. The buildings affected by the fire are estimated to be between 100 to 150 years old, Channel 2 Action News reported, with other buildings in the square dating back to 200 years.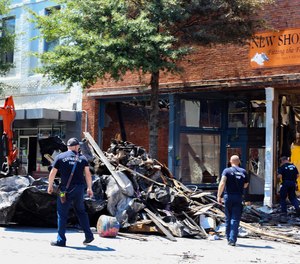 "This tragedy has impacted multiple business owners in downtown Covington and therefore us as a community," authorities said. "We ask for your continued thoughts and prayers for the businesses who have been affected and the firefighters who continue to valiantly rise to the call of duty."
The blaze broke out around 10 p.m. on Monticello Street between Reynolds and Washington streets. Several residents were enjoying the square at that hour for a movie night showing of Remember the Titans, a movie filmed partly in the area.
Crews at the scene confirmed with Channel 2 that the fire affected Shelvie Jeans, Shear Bliss, The Dude Store and New Shoez. Businesses on the west side of Monticello Street where the fire originated are without power, officials said. Businesses on the east side of Monticello Street remain open.
"It found its way between ceiling and roof and its always impossible for us to get there to get it out," Joe Doss, the city's fire department's fire marshal, told Channel 2 at the scene regarding the fire.
Multiple fire departments surrounding the county joined in efforts to contain the blaze Friday evening. By 8 a.m. Saturday, Covington fire and Newton County fire crews remained at the scene controlling flames and hotspots, according to the city.
Downtown Covington is a destination for many tourists. Several TV productions have been filmed in the area, including The Vampire Diaries and The Dukes of Hazzard. The Newton County Courthouse, located across the square, was featured in the TV series In the Heat of the Night.
The cause of the fire remains under investigation.
©2023 The Atlanta Journal-Constitution.
Visit at ajc.com.
Distributed by Tribune Content Agency, LLC.
McClatchy-Tribune News Service