Office of Ky. Sen. Rand Paul damaged in building fire
Bowling Green firefighters battled the State Street fire for 6 hours
---
Associated Press
BOWLING GREEN, Ky. — A fire has caused heavy damage Friday morning to a building that houses the Bowling Green office of Kentucky Sen. Rand Paul as well as a local law firm.
Fire crews were called to the building on State Steet around 2 a.m. Friday and found a heavy blaze that required additional units, Bowling Green Fire Department spokeswoman Katie McKee told the Daily News.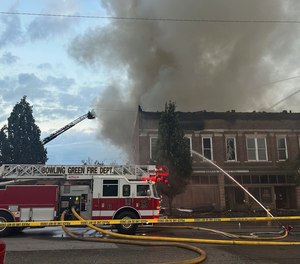 Six units worked for hours to extinguish the flames, with firefighters manning aerials to get at the blaze from above. The fire caused a roof collapse and a plume of heavy gray smoke rose from the top of the building at sunrise, the newspaper reported.
No injuries were reported, McKee said. The cause and origin of the fire were under investigation.
Paul said in a statement that he was thankful for first responders who arrived quickly to extinguish the blaze. He said his office is working with authorities to assess damages and determine a cause and will continue to operate for constituents.
"We have a very well established emergency management plan and have the ability to continue operations that will not impact our work helping Kentuckians," he said.