Critical fire dept. report sparks anger from firefighters
Firefighters said supervisors are trying to beat them down, fund public safety by cutting their pay, and will ultimately make Kern County less safe for citizens
---
By James Burger
The Bakersfield Californian
KERN COUNTY, Calif. — The County of Kern will go into negotiations with its fire union in the next few weeks, if not the next few days, and the stakes will be high.
On Tuesday Kern County Supervisors received a report from the Center for Public Safety Management that called for major changes in funding, operations, contracts and administration at the Kern County Fire Department.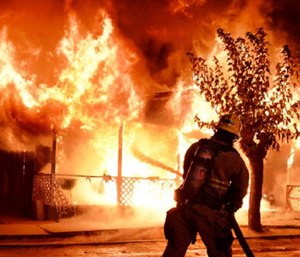 And it triggered passionate discussion.
Kern County firefighters ripped into the report, and into supervisors, at the Tuesday afternoon meeting.
They said county supervisors are trying to beat them down, fund public safety by cutting their pay and benefits, and will ultimately make Kern County less safe for citizens.
"The message you have consistently relayed to your firefighters is that they are not appreciated," said Kern County Firefighters President Derek Robinson. "And morale is low."
Supervisors said they were sad to hear firefighters feel that way.
"I think we should work together to not make you feel that way anymore," said Supervisor Mike Maggard.
But the county faces a structural deficit and the fire department is a part of that deficit, supervisors said.
"The situation in the county is that the county is facing a $28.3 million deficit in our budget," Kern County Administrative Officer Ryan Alsop said. "$9.1 million of that is in the fire department."
The $150,000 CPSM report supervisors received Tuesday offers a host of ideas for how to fill that gap. Some -- like reworking contracts with cities that pay the Kern County Fire Department for fire protection -- were administrative.
But a number of those recommendations, the ones that have firefighters steamed, call for the county to seek reductions in firefighter pay structures.
Those recommendations -- which would be subject to contract negotiations with the county union -- include eliminating special pay for college degrees and maintaining physical fitness as well as ending the practice of including holiday, vacation and sick leave in the calculation of firefighter overtime.
Alsop said not all the recommendations will be pursued immediately -- or at all.
But the county needs to get to a balanced budget and the fire department has to be a part of that effort.
"This is a toolbox of recommendations," he said. "This is entirely about the future of the fire department. This has nothing to do other than get the fire fund healthy. If we can do it without going into the pockets of firefighters then we will. But there's not a lot of options. If you've got ideas I'm all ears."
Engineer Jesse Waldowski said it has been frustrating and demoralizing for firefighters to hear their pay and benefits attacked by county administrators and supervisors.
"I'm a firm believer that it's not the fire engines and the fire station that make this a great fire department," he said.
The firefighters make it a great department, he said.
And he claimed that other solutions have been overlooked. He lives in Tehachapi, he said, and his home is protected by Station 13, a fire station that was supposed to be seasonal but has been staffed year-round by overtime.
That decision wasn't one firefighters made.
"There's been some attacks on our overtime," Waldowski said. "When the narrative is created that firefighter overtime is killing the budget and we know that Station 13 is being staffed with overtime, that's hard on us."
Supervisor Maggard told firefighters he doesn't begrudge them the overtime they earn when they fight fires and protect the lives and property of people.
"The reality is that the largest proportion of the (county) deficit was in your department," he said. "It's fair to ask, 'Is there a way they can better manage overtime in Kern County?'"
Firefighters said the uncertainty about the future has led them to make tough decisions about whether to start a family or invest in real estate.
"We've heard a lot about our structural deficit. We're not a business. We're not supposed to make money," said firefigher Jeff Tape. "Your employees are being asked to fund public safety. That's not right."
People don't understand how often firefighters stop small fires from becoming big ones. Following the recommendations in the CPSM report will lead the county down a dangerous road, he said.
"If you take the staffing and funding and engines and stations away you're going to have an Erskine Fire every year," he said.
Most of the issues firefighters are concerned about, however, will not be dealt with in a public forum as a matter of policy.
Firefighters' pay and benefits are a contract issue.
Robinson said the union has been without a contract since September and they expect to go back into negotiations immediately.
Alsop said that is definitely what will take place.
Some recommendations outlined in the report, however, will be reviewed and investigated.
Supervisors urged Fire Chief Brian Marshall to look into issues like the pay the county receives from contract cities and the Kern County Department of Airports.
Marshall said some of that work is already underway although new five-year contracts with the cities served by the KCFD were just approved.
"I believe any organization that stops moving forward, it's not a good thing," Marshall said. Being "tomorrow's fire department today" is a valuable pursuit, he said.
"Some of the items in the report are going to take a large amount of time to accomplish. Some of these recommendations will take money," he said.
Marshall said he wants a transparent process when he brings the issue forward to the board. Among the questions he would like answers to: What can we do, short term, before the next fiscal year budget is here, to chip away at the deficit?
Copyright 2018 The Bakersfield Californian