Firefighter, tennis legend Rafael Nadal help raise $3.3M with charity match
Firefighters who have been battling Australia's wildfires sat courtside at the event that was part of Tennis Australia's Rally for Relief
---
By Laura French
AUSTRALIA — An Australian volunteer firefighter, one of the many who have been battling devastating wildfires over the past several months, teamed up with tennis star Rafael Nadal Wednesday in a charity match to support relief efforts.
Country Fire Authority (CFA) Firefighter Deb Borg scored one point in the match, which was part of Tennis Australia's Rally for Relief event ahead of the Australian Open, according to CNN. The event raised more than $3.3 million, with multiple star players pledging to donate.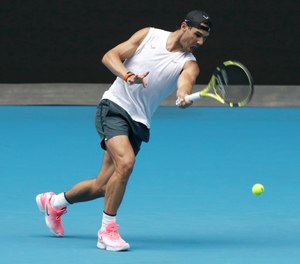 Borg was one of 30 CFA volunteer firefighters invited to watch the matches between a list of players that included Roger Federer, Serena Williams and Naomi Osaka, according to The Sydney Morning Herald.
"I just thought, this can't get any better. And then they came and asked if any of us play tennis and I said 'yes' and next thing I had a racket in my hand," Borg, 53, told the Herald.
She said she got to choose which player to team up with, and chose Spain's Nadal, whom she said she likes watching because they are both left-handed.
Funds raised by the event will go toward relief efforts for the wildfires that have killed at least 28 people, destroyed thousands of homes and wiped out millions of animals across the continent.
Nadal and Federer together donated a total of $172,220, and Tennis Australia pledged $700,000 to repair tennis facilities affected by the bushfires.