Mass. FD raises $37K in 3 days for firefighter with COVID-19
The Rockport Fire Department is raising money for Jason Doyle, 38, who has been hospitalized, fighting the virus for nearly a month
---
Michael Cronin
Gloucester Daily Times, Mass.
ROCKPORT, Mass. — The Rockport Fire Department has rallied around one of its own as he battles COVID-19.
Jason Doyle, 38, has fighting the disease for nearly a month. A Sandy Bay Fire Company lieutenant since November 2019, he has been a Rockport volunteer firefighter since 2002, and a Rockport Public Works employee since 2001.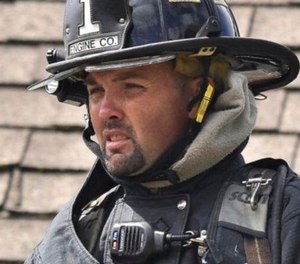 To date, the Rockport Fire Department, a volunteer organization, has raised $37,070 for Doyle. He was first diagnosed with the novel coronavirus three weeks ago, according to Janelle Favaloro, who organized the fundraiser three days ago. Due to an underlying health condition, he was checked into Beth Israel Hospital in Boston for further treatment.
"It's not looking like he's coming home really soon," said Favaloro. "From what I understand his lungs have been compromised."
Favaloro, wife of Rockport fire Capt. Frank Favaloro, said her firefighter husband and sons are all close with Doyle at the department. She began a GoFundMe online fundraiser to support him on Jan. 2.
"He isn't going to be able to work for some time now," she explained, "so I thought we could do something to help him out for when he comes home."
The goal was to raise $10,000. As of Tuesday evening, 557 people donated more than three times that amount.
"The community has been unbelievable," said Favaloro. "People have been messaging me on Facebook all the time about it, sometimes people who I never met. It's amazing that some people are still willing to give during such an uncertain economic time."
"I'm hoping we can provide him with enough money to cover basics while he is recovering, so he can relax and know we have his back," Favaloro wrote in the fundraiser's description. "Firefighters are a family, and this is how we roll."
Donations may made by visiting gf.me/v/c/qy36/help-for-firefighterjason-doyle.
___
(c)2021 the Gloucester Daily Times (Gloucester, Mass.)
McClatchy-Tribune News Service