Off-duty Texas FF-EMT seriously injured rescuing person from fire
Granite Shoals Firefighter-EMT Dustin Short sustained lung injuries after going into a burning building to save a trapped victim
---
By Laura French
GRANITE SHOALS, Texas — An off-duty firefighter-EMT sustained serious injuries while rescuing a person from a burning building on Tuesday. 
Granite Shoals Firefighter-EMT Dustin Short is in serious but stable condition at the hospital after "saving the life of a victim trapped in a burning residence while away from official fire department duty," according to a Facebook post by Granite Shoals Fire Rescue.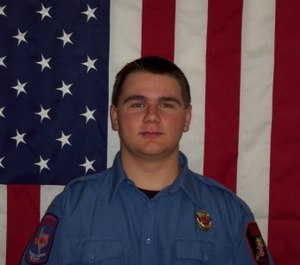 Short's lungs were injured during the rescue and he was placed on a ventilator, according to KXAN. 
Short has served with Granite Shoals Fire Rescue for eight years, according to the department's website. 
An online fundraiser has been set up to assist with Short's medical bills.