Calif. city asks court to dismiss lawsuit brought by firefighters' union
The Santa Maria Firefighters Union alleges the civil rights of union leaders were violated when the city investigated them over what they contend was legally-protected speech
---
Razi Syed
Santa Maria Times, Calif.
SANTA MARIA, Calif — The city of Santa Maria has filed a response to a federal lawsuit filed by the Santa Maria Firefighters Union that alleges the civil rights of union leaders were violated when the city investigated them over what they contend was legally-protected speech.
The response, filed May 9 in U.S. District Court for the Central District of California, asks the court to dismiss the case, which names the city of Santa Maria, Fire Chief Leonard Champion, former City Manager Rick Haydon and Human Resources Manager Jayne Anderson as defendants.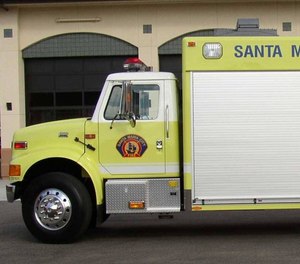 The claim was filed by five firefighters in leadership positions with the International Association of Fire Fighters Local 2020, which represents city firefighters at the rank of engineer, fire caption and firefighter.
The primary events at issue in the case date back to 2017, when Champion proposed opening up the recruitment for vacant fire captain positions to external candidates.
The executive board of the union opposed the move and said Champion needed to meet and confer with them before moving forward with a proposal that differed from previous department practice.
While the entry-level position of firefighter and the upper management positions of battalion chief, deputy chief and chief have been filled through open recruitment, the department did not previously allow external candidates to apply for the promotional positions of engineer or captain.
When Champion publicly posted the job notice, the union contacted California Professional Firefighters and requested that a "do not apply" notice be sent out advising CPF members not to apply for the position.
According to the complaint filed by the union in March, Champion notified the five union board members that they were under investigation over the publication of the "do not apply" notice and that they could face disciplinary action, including termination.
In the motion to dismiss, prepared by Jesse Maddox of the law firm Liebert Cassidy Whitmore, the city argues the actions the firefighters' union took was an internal personnel grievance rather than a matter of public concern entitled to First Amendment protection.
"Plaintiffs Complaint does not state a claim for First Amendment retaliation because it does not allege speech that relates to a matter of public concerns," the motion to dismiss states.
"Rather, their alleged speech relates to a personnel grievance, namely that the City refused to meet and confer with the Union before opening the recruitment to external candidates."
In the motion, Maddox argued that defendants could not make a claim that their First Amendment rights were violated because the plaintiffs faced no repercussions as a result of the investigation, and that the defendants were entitled to qualified immunity from civil damages.
"An investigation, by itself, is not an adverse employment action," Maddox wrote.
Razi Syed covers Santa Maria City Government for Lee Central Coast Newspapers. Follow him on Twitter @razisyed
———
©2019 Santa Maria Times, Calif.
McClatchy-Tribune News Service