Son of fire chief joins department, gets dad's rookie badge
The badge is the same that his father, Fire Chief Dale C. Herman, put on when he first became a city firefighter 33 years ago.
---
Craig Fox
Watertown Daily Times, N.Y.
WATERTOWN, N.Y. — The badge that new city firefighter David Herman will wear on his uniform was a gift from his boss.
It was the same badge that his father, Fire Chief Dale C. Herman, put on when he first became a city firefighter 33 years ago.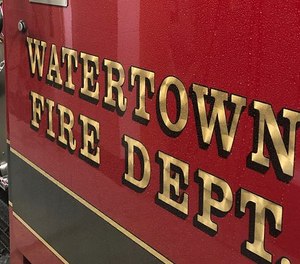 "Every time I leave the station, I'll take it with me," the new firefighter said about the badge he'll proudly wear.
Mr. Herman was joined by three other new firefighters who became the newest members of the Watertown Fire Department on Thursday morning.
For the past 12 weeks, the four new firefighters — Robert Schultz, 26, of Croghan; Lane Broadhurst, 28, of Adams Center; and Jonathan Stetson, 23, of Cape Vincent; and Mr. Herman — trained at the Massey Street fire station.
They learned such things as how to run fire equipment, giving first aid and what to do during fire rescues.
And how to be a part of the Brotherhood of Firefighters.
About 70 family members, fellow firefighters and city officials watched as they received their badges for the first time on Thursday.
Mr. Broadhurst's 5-year-old son, Chase, pinned the badge on his father.
"It's something that he'll always remember," Mr. Broadhurst said.
It also was a proud day for the fire chief. His son, who graduated from Jefferson Community College, where he took a fire investigators course, is starting in a career that they both love.
"He's got the job he's always wanted," the fire chief said. "It showed that he has the ability to do the job."
Over the years, there have been many instances when sons of firefighters have been hired as firefighters themselves and ended up working with relatives in the fire department. Retired Utica Chief Russell Brooks worked with his son for years.
But Chief Herman stressed that he recused himself and did not play a role in the hiring process.
On Wednesday night, Chief Herman came up with the idea to give the badge he received as a rookie firefighter in 1986 to his son. "It took me a couple of hours to find it," Chief Herman said.
As it turned out, it was buried in a bedroom closet in a bag with his first uniform shirt and hat.
Grandmother Lois Herman said her grandson comes from a firefighter family. Her husband and David's grandfather, Carl Herman, belonged to the North Pole Fire Department for 64 years as a volunteer.
"It was something I grew up around," David Herman said. "It was always there."
She remembered her grandson was so enthralled with the job that he wore a toy firefighter hat and boots when he was a little boy.
"Now he's wearing bigger boots," she said.
The other three firefighters always had aspirations of going into a career of firefighting, they said. All three also volunteered in their communities before deciding to join the city's paid fire department.
"I got into a career I truly love," Mr. Schultz said.
The four came from a civil service list from 2015. Mr. Herman, Mr. Broadhurst and Mr. Stetson are filling current vacancies, while Mr. Shultz is an over hire whom the City Council approved in anticipation of a pending retirement,
Four previous firefighter hires finished training back in January and have been on the line since. Those hires are being paid by the $561,202 federal Staffing for an Adequate Fire and Emergency Response (SAFER) grant.
———
©2019 Watertown Daily Times (Watertown, N.Y.)
McClatchy-Tribune News Service