FRI 2023: Dr. Lori Moore-Merrell details 6 focus areas of the National Fire Strategy
The U.S. fire administrator touted the work of the Fire and Life Safety Communicator's Initiative and the collaborative effort to focus on the fire service's messaging challenges through #FireServiceOneVoice
---
KANSAS CITY, Mo. —  Taking the stage on Thursday for the Fire-Rescue International 2023 General Session, U.S. Fire Administrator Dr. Lori Moore-Merrell outlined the six goals of the National Fire Strategy, which were discussed and agreed upon at the U.S. Fire Administrator's Summit, held in 2022 – the first time since 1974.
Before beginning her presentation, Moore-Merrell first provided an update on the devastation following the deadly wildfires that ripped across the Hawaiian island of Maui last week, where the administrator had recently returned from after surveying the damage.
Moore-Merrell described the aftermath as one of the most shocking she's seen in her time with the fire service: "What this community has suffered is truly beyond words."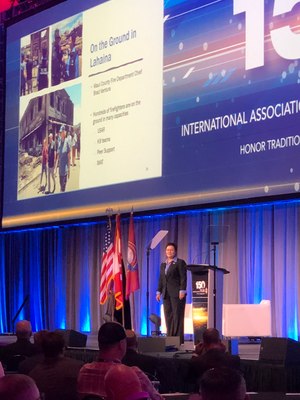 Moore-Merrell also shared a video message from Maui Fire Department Chief Brad Ventura with the FRI audience, who requested donations to help survivors and offered his gratitude for the international support and outreach on behalf of the island's first responders.
Top quotes by Dr. Moore-Merrell
"We are working hard to make sure we have the funding for the USFA to deliver what it should be delivering to the fire service."
"One-third of the U.S. population lives in a fire-prone area, and most people don't realize that's where they live."
"Fire Service One Voice is a collaboration of all of our national organizations so that we can stand together on the things that we can move."
"Fire Service One Voice needs to be a movement and I think we're off to a good start."
Top takeaways
Moore-Merrell updated the FRI audience on the progress of the six goals outlined in the nation's National Fire Strategy, which was developed following the 2022 U.S. Fire Administrator's Summit. 
1. Wildfires
Educate communities about wildfire dangers through:  
Community mitigation efforts
Reducing vegetation around homes in fire-prone areas
Technology innovations
Read next: U.S. fire administrator embarks on Fire Stop Tour to launch National Fire Strategy
2. Recruitment and retention
A working group led by Eriks Gabliks, superintendent of the National Fire Academy, and Deputy Chief (ret.) Kevin Quinn, interim CEO of the NVFC, will compile a list of best practices and recommendations on how to address recruitment and retention issues in the fire service, that will be relayed to White House administration officials for consideration.
3. Firefighter cancer
 Address concerns with a focus on:
PFAS in uniforms and gear
Exposure tracking
Understanding the methods by which cancer occurs
Additional research
Encouraging participation in the National Firefighter Registry for Cancer
4. Behavioral health
A working group split into different sections is focusing on:
PTSD awareness
Suicide prevention
Mental resiliency
5. Elevating the fire service's important within the federal government
Moore-Merrell described the Department of Homeland Security as made up of "pretty much law enforcement," aside from FEMA, she said, which the USFA is nested under.
"These are things that we're trying to bring to light," Moore-Merrell said. "The fire service has to be elevated because of that changing risk across the nation. And who's responding first? It's you."
6. Building codes and standards
This initiative is also a firefighter health and safety focus, as a lack of stringent building codes makes for a riskier environment for first responders, Moore-Merrell said.
"The tragedy in Maui will not be wasted in this regard," she said. "We must understand how to build resilient communities, and how to build back resilient communities."
Additional resources
---

Read next:
FRI 2023: Change is our 'proof of life'
Jessica Buchanan shares lessons of change, choice and hope from her 93-day captivity in Somalia
---