Disney firefighters, paramedics approve 3-year labor deal
80% of the Reedy Creek Fire Department's 185 staff members signed off on the deal, paving the way for a significant bump in starting pay and benefits
---
By Amanda Rabines
Orlando Sentinel
ORLANDO, Fla. — Disney World's first responders have approved a three-year labor deal that now heads toward the ratification process.
On Friday, 80 percent of the Reedy Creek Fire Department's 185 staff members signed off on the deal, paving the way for a significant bump in starting firefighter pay and benefits, in addition to investment in transportation equipment and addressing safety concerns, union President Jon Shirey said.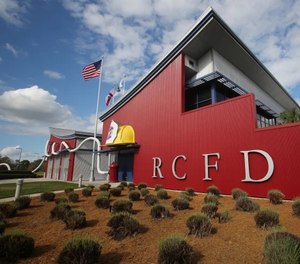 Shirey said about 20% of members either did not vote or voted against it.
"Securing the vote favorably by those kind of margins is a testament to the work that's gone into this contract," he said. "It's been in the works for nearly four-and-a-half years, so today certainly feels like a relief, but more still has to occur, so we're cautiously optimistic."
Representatives of the Central Florida Tourism Oversight District did not immediately respond to request for comment.
Negotiations began under Walt Disney World's Reedy Creek Improvement District board members and representatives, but that changed after DeSantis signed a bill dissolving tax district and appointed a new board.
The stirrup in the parties caused some temporary uncertainty for the firefighters union, Shirey said, but not enough to deter the bargaining process. He added that he witnessed the state put in a great effort to reach reasonable language in the contract that benefits both parties.
"There's a lot of controversy going on, everyone has made it about politics," he said. "All I can say is the district is truly evaluating everything and trying to make it better … We have nothing but positive things to say."
The department has struggled with staffing shortages over the years that concerned officers about their ability to efficiently protect Disney staff and guests.
In previous reports, union leadership said the department was increasingly relying on outside agencies to respond to incidents across Disney's 40-square-mile property.
The contract aims to amend those qualms.
If ratified, it will aspire to add 25 firefighters and 12 paramedics within the first year. The contract also enhances the EMS transportation system, which Shirey says modernizes operations and adds two fire rescue vehicles and two EMS ambulances.
In an effort to help recruit more first responders the contract, if ratified, will also increase the starter pay of a firefighter paramedic to $65,000 a year, up from $55,000 a year, Shirey said.
"When you look at the overall contract and big picture issues, we were really able to address all of those things," he said. "And the district will have some things that they really wanted, too, like drug testing language, which was fine by us. As first responders we rely on the public's trust and we don't want anything to hurt that."
The contract lasts until December 2025.
Increased wages will not be retroactive, and will start the week after ratification, Shirey said.
Central Florida Tourism Oversight District members will discuss the contract next week in a private meeting. A vote for ratification will be scheduled at a later time.
"This contract is going to show that both sides gave a little," Shirey said. "It is ultimately a really great contract."
©2023 Orlando Sentinel.
Visit orlandosentinel.com.
Distributed by Tribune Content Agency, LLC.
McClatchy-Tribune News Service