Ohio city fire union agrees to 1-year wage freeze
University Heights' firefighters' union agreed to not seek raises while the city deals with pandemic-related financial issues
---
By Jeff Piorkowski
cleveland.com
UNIVERSITY HEIGHTS, Ohio — The city and its firefighters union have come to a contract agreement in which the International Association of Firefighters Local 974 agreed to a wage freeze for the first year of the three-year deal. City Council agreed to the new contract during its Zoom meeting held Monday, Oct. 19.
With the city facing uncertainty as to its tax collections in a year in which COVID-19 has played havoc with communities' budgets, Mayor Michael Dylan Brennan was grateful for the union's consideration.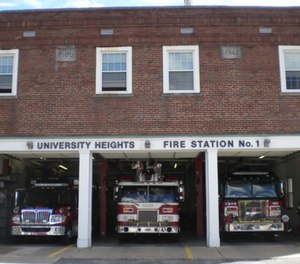 "Everybody is rising to the occasion during this pandemic," Brennan said. "If we could give them raises, we would give them, but we can't commit to that right now, and the fire union understands that. They look out for us every day in their capacity as firefighters, and they were looking out for us with this (agreement).
"It means the world to me. It's not typical for a union not to seek a raise, but they understand it. They understand what's going on in the community."
The city and the union plan to get together next summer, by June 30, when the deal's first year expires, and attempt to come up with a satisfactory amount for raises for the second and third year of the agreement. "We'll pick it up again next year when we have a better idea of where we are (financially)," Brennan said.
It is the first of four contracts the city has to hammer out with its unions. Still to come are agreements with police officers and police administrators, and public service department workers. Brennan said he would not negotiate via the press and state whether he would ask the other unions to accept a wage freeze, but usually union agreements within a city are similar, which likely means that other unions will also be asked to accept a wage freeze for the first year of their deals.
"We're appreciative of what the firefighters did and we hope the rest of our employees understand the situation," Brennan said.
Meanwhile, council also approved Monday pay for city employees who were furloughed four hours per week, each Friday beginning in June, for 16 weeks, as the city attempted to save money. In all, council approved $44,682 for the employees. Brennan said he felt it was important that employees get paid for the time they missed due to something that was not their fault.
"They all worked fewer hours, but they all completed their work every week," he said. "It's important for us to stand by them, just as they stood by us and worked hard for us."
Brennan said that firefighters were also prepared to take less, "to do something in solidarity" with their fellow, non-union employees. Firefighters were not furloughed, but Brennan said it was another example of the firefighters understanding of the city's financial situation.
The firefighters did, as part of the new contract, receive a new vacation tier for those who have served with the department at least 24 years, and had some overtime pay issues clarified.
During the council meeting, Finance Director Dennis Kennedy said that the city was down 6.1 percent, or about $524,000 in income tax collections when compared to this time last year. The current and expected rise in COVID-19 cases, however, leaves in doubt just how much revenue the city will be collecting in months ahead. The city has already taken steps to reduce expenditures by more than $1 million, such as delaying its road repair program until 2021.
University Heights has been aided by $1.1 million in federal CARES Act money.
___
(c)2020 The Plain Dealer, Cleveland
McClatchy-Tribune News Service