W.Va. fire union says city manager illegally reduced pay
Morgantown firefighters said City Manager Kim Haws made a change that would cut firefighters' pay by $2,000 a year
---
William Dean
The Dominion Post, Morgantown, W.Va.
MORGANTOWN, W.Va. — The Morgantown firefighter's union unanimously voted no confidence in city manager Kim Haws and accused of him lowering the pay for every firefighter after they refused a settlement offer in an ongoing lawsuit over improper holiday pay.
The members of International Association of Firefighters Local 313 sued Morgantown in 2019 because they were being paid improperly on holiday—compensated 12 hours for a 24-hour shift. Morgantown corrected the issue. However, the legal battle over the amount of back wages owed has continued.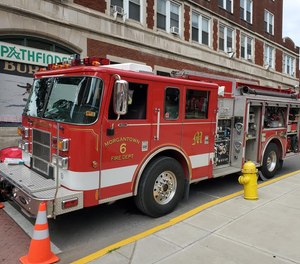 The city offered a $1.7 million settlement—about half of what's owed—to the firefighters, which was rejected, according to IAFF Local 313's attorney Teresa Toriseva.
"Just six weeks after the firefighters refused to accept the city's offer, the new city manager, who has been on the job less than four months, canceled the shift differential pay for the firefighters," a press release from Toriseva said.
That change will result in each firefighter earning about $2, 000 less a year.
"It is clear based on the timing of these events, as well as their application only to firefighters, that the removal of the shift differential is a retaliatory strike against the firefighters for turning down the city's offer to resolve (the) holiday pay case, and perhaps for daring to stand up against the pay theft in the first place," the release said.
The shift differential is a small enhancement to hourly pay when working an afternoon or midnight shift and has been in place for at least 35 years, the release stated. The shift differential is common but important enough to be noted on paperwork discussing job benefits for new firefighter candidates. Other city employees also receive the benefit.
Prior to the retaliation, Morgantown's firefighters were willing to settle the suit for just under $2 million, Toriseva told The Dominion Post.
"Now that's obviously off the table," she said. "You don't reduce people's pay, in my opinion, unless you're trying to push them out the door or retaliate against them."
Toriseva said additional lawsuits over illegal pay reduction, violations of civil service, retaliation by a city official in his official capacity and more are on the way.
"The professional firefighters of the IAFF 313 will not be intimidated by the illegal, aggressive and retaliatory tactics of Mr. Haws and the City of Morgantown," Toriseva said. "... It is clear that the city would rather pay litigation costs than pay firefighters what they are owed."
The Dominion Post reached out to the city, and this story will be updated when it responds.
___
(c)2021 The Dominion Post (Morgantown, W.Va.)
McClatchy-Tribune News Service