Ala. mayor, FF suing over civil rights violations alleges racist behavior by town's firefighters
Newbern Mayor Patrick Braxton says fellow volunteer firefighters locked him out the fire station and left him alone at fires
---
By FireRescue1 Staff 
NEWBERN, Ala. — In Newbern, Alabama, a power struggle has emerged between the town's first Black mayor, who also serves as a volunteer firefighter, and the previous administration.  
Newbern Mayor Patrick Braxton filed a federal civil rights lawsuit accusing town officials of conspiring to deprive him of his civil rights and obstructing his position solely because of his race. He is also sharing details of racist behavior exhibited by fellow Newbern firefighters. 
In an interview with Capital B News, Braxton recalled how the systemic racism in Newbern impacted his work as a firefighter – and its impact on citizens: 
Two years ago, Braxton says he was the only volunteer firefighter in his department to respond to a tree fire near a Black person's home in the town of 275 people. As Braxton, 57, actively worked to put out the fire, he says, one of his white colleagues tried to take the keys to his fire truck to keep him from using it. 

"In another incident, Braxton, who was off duty at the time, overheard an emergency dispatch call for a Black woman experiencing a heart attack. He drove to the fire station to retrieve the automated external defibrillator, or AED machine, but the locks were changed, so he couldn't get into the facility. He raced back to his house, grabbed his personal machine, and drove over to the house, but he didn't make it in time to save her. Braxton wasn't able to gain access to the building or equipment until the Hale County Emergency Management Agency director intervened, the lawsuit said.  

"'I have been on several house fires by myself,' Braxton says. 'They hear the radio and wouldn't come. I know they hear it because I called dispatch, and dispatch set the tone call three or four times for Newbern because we got a certain tone.'"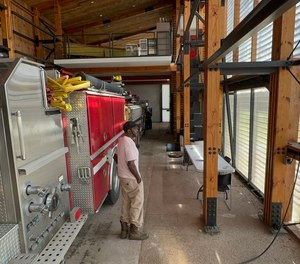 Braxton became mayor in 2020. For at least 60 years, there has never been an election in the town. Instead, the position has been treated as a "hand me down" by the small percentage of white residents, according to several residents Capital B interviewed. After being the only one to submit qualifying paperwork and a statement of economic interests, Braxton became the mayor. 
Braxton says the ensuing harassment and intimidation was rampant, with white town leaders impeding his service. Braxton says Haywood "Woody" Stokes III, the former mayor, along with his council members, reappointed themselves to their positions after ordering a special election that no one knew about.  
Braxton is now suing these town officials, among other agencies, in federal court.  
Read the full story in Capital B.