Fla. firefighter charged after placing knife against colleague's neck
An Orlando firefighter is on administrative leave over his reaction to a kitchen joke
---
By Bill Carey 
FireRescue1 
ORLANDO, Fla. — An Orlando firefighter faces criminal charges after allegedly putting a knife to the throat of another firefighter over a joke about cleaning a skillet. 
Firefighter La Teef Omari Williams reportedly placed a knife against another Station 9 firefighter's throat and allegedly said, "That's how people get killed," in response to a firehouse joke about using soap to clean a cast iron skillet, WESH reported.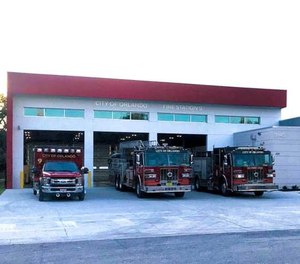 WESH also reported documents stating that Williams followed up to his comment saying he was, "Only joking and that he was using the dull side of the blade." 
Williams was arrested and charged with battery and aggravated assault with a deadly weapon. He was released on bond and placed on administrative leave. 
WFTV reported that Williams and another firefighter were involved in a conflict the day before the skillet joke. Documents showed that a supervisor wrote in the letter that the event "created an environment that makes myself and other crew members feel unsafe in the work environment." 
Orlando Fire Department officials did not comment on the investigation.
RELATED: