Following LODDs, N.J. FD swears in new firefighters
Newark's mayor and union president give differing views on staffing at the cargo ship fire during the ceremony for the newest firefighters
---
By Steve Strunsky
nj.com
NEWARK, N.J. — Following a somber swearing-in of nine Newark firefighters after two died in a shipboard fire this month, city officials said Wednesday that understaffing did not play a role in the deaths.
Newark Mayor Ras Baraka joined his public safety director and fire chief at the swearing-in ceremony at Clearview Baptist Church exactly three weeks after the July 5 fire that claimed the lives of Augusto "Augie" Acabou, 45, and Wayne "Bear" Brooks Jr., 49, and injured five others.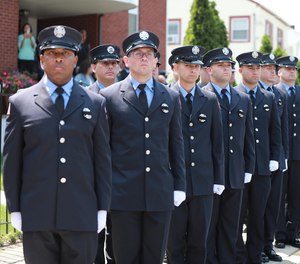 Fire or police swearings-in are normally joyous occasions, initiations of young men and women into the ranks of the city's finest or bravest, attended by proud parents, fiances and top brass, in an atmosphere of idealism and anticipation.
And there was certainly some of that in the airy church sanctuary and the noonday heat outside, where the public safety department's deputy chaplain, the Rev. Paul Donohue, performed the ritual blessing of a Newark fire truck. But there were solemn tributes to the fallen veteran firefighters throughout the hour-plus ceremony, including a pair of fire helmets bearing the numbers 16 and 4 for Acabou's and Brooks' engine and ladder companies. There was also a moment of silence and words of tribute and condolence for the two men interspersed with encouragement for the rookies following in their dangerous footsteps.
"Obviously, congratulations to the nine firefighters that are now members of the Newark Fire Division here, in the City of Newark," said Baraka, who also congratulated 10 members of the same academy class now headed for firefighting jobs in Bloomfield, Clifton, Nutley and West Orange.
"We are still fresh off the loss of two of our bravest, Capt. Acabou and Capt. Brooks Jr.," he added. "And it would be remiss for us not to mention them at this ceremony or overlook the fact that that is probably on the hearts and minds of many of you who are going through these classes or went through these classes already. And probably even more so for your family members, who are wondering and watching and praying every day as you are in these fire houses and that bell rings, and you have to go."
Newark Public Safety Director Fritz Fragé offered his heartfelt condolences to the Acabou and Brooks families, and like the mayor, he addressed the two by the captain's rank they were promoted to posthumously.
"These two guys, these two captains, will always be heroes in our eyes," he said.
After the ceremony, Baraka addressed questions about staffing and equipment in the fire department.
"What I'm sure of is, they were not understaffed on the night of that incident, and that they had the proper equipment that we provided at the incident, as well...," Baraka said. "Any other thing that we're talking about seeks to take the discussion somewhere else, about things that we discuss with the unions before or after, or anytime that this goes on, period. But we had enough people there, and there was enough equipment at the site."
The U.S. Coast Guard is leading an ongoing inter-agency investigation of the blaze.
Leaders of Newark's rank-and-file and officers' firefighting unions have seized upon media attention the blaze on board the Grande Costa D'Avorio has focused on the department, hoping to amplify longstanding complaints of understaffing that they say have been largely ignored.
Capt. Anthony Tarantino, president of the Newark Fire Officers Union, attended Wednesday's swearing-in and afterward reiterated his assertion that Newark ladder and engine trucks routinely go on calls with a captain and two firefighters, despite industry standards calling for a captain and five or sometimes six firefighters per truck in a city as densely populated as Newark.
Even after the fatal blaze, Tarantino said "Newark trucks are still going out with one officer and two firefighters." Baraka, Fragé and Jackson disputed Tarantino's numbers.
"The apparatuses, on paper, we have one officer and three-to-four firefighters assigned to all of our stations," Fire Chief Rufus Jackson told reporters. "Because of vacation, personal days, sick leave, it falls short sometime. And when it falls short, we fill the void, I fill the void, with overtime."
City officials referred to responses to "frequently asked questions" prepared by the public safety department before the press conference. It provides a list of the number and type of fire companies that respond as a group to each first alarm fire: four engine companies; two ladder companies; one rescue company; plus three special operations firefighters; one deputy chief; and one battalion chief assigned as an "incident safety officer."
"This totals a minimum response of 16-35 firefighters, plus eight captains and three chiefs," the document states.
In terms of overall staffing, officials said Wednesday's inductees put the force just 39 firefighters short of a full contingent of 494 and that the department planned to hire 50 more this year.
Though he vowed to improve recruiting efforts, Baraka said the city had little control over how many cadets graduated compared to the number entering the academy, which was 20 for the latest class of 9 graduates.
Tarantino was not satisfied, however.
"They should be sending 200," he said.
©2023 Advance Local Media LLC.
Visit nj.com.
Distributed by Tribune Content Agency, LLC.
McClatchy-Tribune News Service