How young leaders can overcome critical leadership challenges
Identifying the top challenges facing new leaders, plus key guidance to help them succeed as they navigate new responsibilities
---
By Brian L. Gonsalves
You knew it was bound to happen. Your department has promoted its first Gen Z chief officer – or maybe your department is just now promoting millennial fire officers. No matter if they are in their mid-20s or early 40s, young or new leaders alike must navigate a field of leadership landmines.
So, how can you help them overcome the challenges ahead?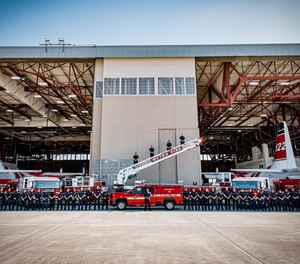 When I was promoted to battalion chief a few years ago at the age of 37, I was the youngest chief officer in my district, and the first millennial in my rank. Since that time, I have had some ups and downs, some moments that I am very proud of and some moments that bruised my ego. Through it all, I learned a few key lessons to help navigate this experience – lessons I would like to share with new officers here.
Top challenges
Let's first consider the main challenges young or new leaders will likely face in their first year on the job:
Respect: The top challenge is building respect. Respect is difficult to evaluate, as there is no quantifiable way to score it. Overseeing personnel with more years of experience can be tough starting out, and there is no easy way to gain their trust other than time, showing up and doing the right thing.
Generational biases: Young leaders might also have to deal with some built-in generational biases from those who came before them, particularly as there are currently five generations working in the fire service, each with different life experiences.
Experience: With improvements in fire prevention, education and technology, the number of "slides in the slide tray" – the number of calls run – can put new leaders at a disadvantage.
While those challenges are all tough, I have learned through mentors, plus various training and educational forums, that there are several ways to overcome these hurdles and ultimately find a strong leadership presence. Following are the key lessons to share with your new officers.
Involvement
Staying involved will help build your skills and abilities as a young leader, and one of the best ways to increase your level of involvement is to teach. As a young leader, whether formal or informal, you will be considered an expert in your field. Look for instructor opportunities within your own agency, take classes to become a state-certified instructor, or join a nearby community college or vocational school. Teaching helps to give back, recruit new members, mold the next generation, and it helps you to remain consistent with your own skills, and better understand your own strengths and weaknesses. It is also a great way of learning from other like-minded instructors, and in some cases, you are in close contact with retired members with a lot of information, experience and wisdom to share. Inviting retired members over to your station for dinner is a great way of sharing their knowledge with your crewmembers. This all helps you to bridge the generational gap and bond with your personnel.
Delegation
In your new leadership role, be deliberate about taking time to get to know your crewmembers. Understand who has a passion or interest in fire service-related subjects such as search, ventilation, technical rescue or hose operations. Once you understand their strengths, you can start utilizing them as a resource for training. Delegation is key, and if all else fails, consider setting up your crews like an ICS chart. Assign a member or two to work on plans or logistics, or even select a crewmember to be your media person. This is a helpful way to get people involved and share the workload. Lastly, while you are learning about your members, it is important to know who has strengths and weaknesses with technology and what form of communication they prefer. Once you know that, make sure you use it.
Mentorship
As a second-generation firefighter, I know the firefighters of my father's generation had secondary skills because they all worked two or more jobs. Many newer members might not have the same skill sets, but that doesn't mean they can't learn; we just need to find mentors patient enough to help them learn. Make sure your brand-new probationary firefighters are matched up with the right mentors, and ensure that the mentors understand the expectations for the journey ahead. Starting with the basics, even if they seem really basic, is key. We might have to teach skills a lot of us learned from our parents as teenagers, but that's OK. I once had a probie put regular dish soap in the dishwasher, twice. They will eventually learn and come out better on the other side.
Pride
Once a solid relationship has been developed with your crew, station or battalion, it will be time to start increasing the pride. Be intentional about celebrating success among your members. When they do something great, make sure you praise them publicly, either officially if your department has a way of doing that, or simply openly talking about them to everyone that will listen. It's also helpful if those great actions are recorded with a video or photos, so that means you need to take pictures often, or delegate that to someone like I mentioned earlier. If your department has a social media page, share these photos and videos often. Your goal is to create a positive and engaged culture within your sphere of influence that members will desire to work within.
Servant leadership
Lastly, but probably most importantly, is developing your mindset of leadership. If you are promoting for power or status, you are in this for the wrong reasons. Taking on a leadership role is about giving back and an opportunity to serve others. Work hard and be actively looking for ways to take care of your crew or personnel. Go out of your way to be there for them. Improve your skills of listening, having empathy, and growing your awareness. Sharing your power and control will drive your ability to connect and create a culture of engagement. Lead with a sense of servant leadership.
"Honor Tradition, Embrace Innovation"
The slogan of the 150th year anniversary of the International Association of Fire Chiefs is "Honor Tradition, Embrace Innovation," and that is exactly where I see the current and future young leaders of the fire service fitting in and bridging that gap. Stepping into a leadership role can be challenging, made more difficult by being relatively young compared to your peers. With the right mindset and desire, though, it will be a rewarding challenge.
The future of the fire service is bright – rooted in technology and data and built on a tradition of hard work and dedication to the craft. Young leaders are just the right mix that can keep us moving forward.
About the author
Brian L. Gonsalves is a battalion chief and second-generation member of the Sacramento (California) Metropolitan Fire District. Hired in 2002, Gonsalves has promoted through the ranks, and served as the EMS QI/QA manager, EMS training coordinator, PIO and safety officer. Gonsalves is a California state fire instructor in several disciplines, a certified Chief Fire Officer, and adjunct faculty at Sierra College in Rocklin. As a member of the FEMA US&R Team, California Task Force 7, Gonsalves has deployed to several major disasters, and held the positions of agency representative, task force leader, plans manager, safety officer and medical specialist. Gonsalves also serves as a member of the IAFC US&R Committee.