Letter from the editor-in-chief: An introduction
My commitment to serve you, my fire service family
---
There are seemingly ordinary decisions in life that we cannot possibly know at the time have monumental effects on the course of our lives.
In 2004, I made the decision to accept a position as an assistant editor with a publishing company that printed a variety of books, journals and magazines, including training magazines for public safety professionals. By sheer luck, the company needed an editor on the fire magazine team. That was the moment in which I unknowingly found my second family – my fire service family.
Fifteen years later, I find myself reflecting on the domino effect of life – how that singular moment not only brought the fire service into my orbit, but also lifelong friends and mentors, and now the incredible opportunity to serve as the editor-in-chief here at FireRescue1.com and FireChief.com.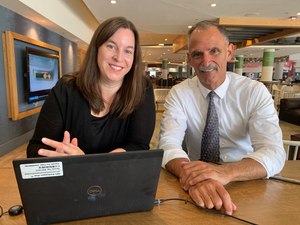 My fire service family has taught me so much over the years, and now in my new role, I aim to pay this back in full, through the continued delivery of high-quality content that elevates your ability to serve your community.
My commitment to you
Working in close conjunction with FireRescue1.com and FireChief.com Executive Editor Marc Bashoor – fire chief in Highlands County, Florida – I'm committed to several priorities:
Deliver high-quality content: My No. 1 goal is to ensure that the content we share is of the highest quality – mission-critical, relevant and timely – so that you have the information you need to build your knowledge, skills and abilities. Some of you will be looking for information about how to perform specific fireground operations; others will seek out guidance about how to be a strong and respected leader; and still others will hunt down information about the latest tools and equipment to help them perform their jobs. My goal is that FireRescue1.com and FireChief.com will be your go-to source for all this information.
Expand our original coverage of critical issues: With the help of our strong editorial advisory board, we always have our finger on the pulse of the industry. We work to identify those issues that are shaping your daily reality – and what's ahead. Our most recent special coverage series on the impact of climate change on the fire service is one example of how FireRescue1.com is pushing the boundaries to cover emerging issues that will affect firefighters across the country. And we will continue to focus on areas of interest such as recruitment and retention, cancer awareness and prevention, advancements in research and technology, new approaches to tactics and training, mental health issues and, of course, bread-and-butter fireground operations.
Elevate emerging leaders: During my time in fire service media, I have seen firefighters grow their careers starting with the publication of a single article. From there, speaking at regional conferences, joining reputable fire service organizations, advocating for meaningful change and, ultimately, delivering the keynote address at a national fire service conference. We're always looking for those rising-star, forward-thinking firefighters who want to bring about meaningful change in the industry.
Share relevant news: Just like "all politics is local," in a sense, "all news is local," too. Whether a major breaking event or a personnel issue, the news can have significant ramifications for firefighters well beyond the department of immediate impact. News helps inform training goals, personnel issues to address, and preparation priorities. We will continue to deliver news that matters to you and your organization.
Elevate FireRescue1.com as a thought leader: We realize there are many sources of information and training available to you, but I am confident that FireRescue1.com can be your go-to source for thought leadership content that will help enhance your career. Further, with the recent merger with Lexipol, we are now able to offer even more educational resources. In my role, I will strive to coordinate our various resource options, making connections between our FireRescue1.com and FireChief.com content and our FireRescue1 Academy and the Lexipol Fire Policy offerings, so you have a full complement of resources at your disposal.
Connect and contribute
I encourage you to reach out via email or LinkedIn. We always want to hear from you about what you like, where we can improve and, most importantly, what you need to be successful in your career. I encourage you to share ideas for articles and help us develop the best material to advance the fire service mission.
I attend fire service events to connect with the fire service community, absorb new information and watch for rising stars in the industry. If you see me walking the halls or attending an educational session, please don't hesitate to say hello.
I look forward to serving you – the members of my fire service family – throughout your fire service career!