Mentoring through role modeling: How to transcend the 'lead by example' cliché
Leaders must demonstrate by performance while illuminating a path to success for other members
---
By Cedric Patterson
"Lead by example" – a phrase typically at the top of the list of advice given to a newly promoted company officer. The words are spoken in assessment interviews ranging from captain up to fire chief. But is it enough to just lead by example?
What if a cross-country coach set out on a run with their team, and a mile into the run, the coach turned around and no one was there? Officers cannot simply perform and hope that others will instinctively follow. One must be a worthy example others wish to emulate – a role model.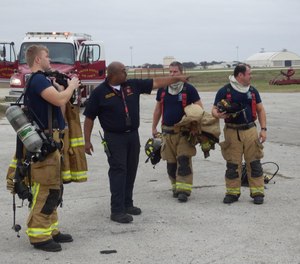 John Maxwell, author of "The 21 Irrefutable Laws of Leadership," writes, "The leader knows the way, goes the way, and shows the way."
Maxwell's words remind me of my time spent as a young, enlisted Marine. During training, a few of the senior Marines would finish individual runs before most of their subordinates. Many of them would then cheer on their subordinates to push through the pain as they neared the finish line. They provided the example of having crossed the finish line.
A much smaller group of senior Marines took a different approach to help their subordinates cross the finish line. They went back to some of the slower, struggling Marines, then ran alongside them and coached them to the finish line. This group was not just leading by example. They modeled the behavior they wanted to be emulated. The added attention and effort to lead, coupled with the encouraging words, were often enough to inspire the subordinates to follow.
Shine a light on the pathway to success
A Chinese proverb says, "If you want to know about the road ahead, ask someone on the way back." As seen in the previous examples, it is easy to lead and cheer from the finish line, or to simply do our job the best we can and hope others will follow. But leaders can't give their best effort when they have only themselves to follow. Leaders must demonstrate by performance while illuminating a path to success.
Effective fire service leaders are shaped by success as well as failure, regardless of whether those failures equate to bad fires, botched training evolutions, missed promotions and other adversities. It is incumbent upon leaders to make members aware of these possible pitfalls and provide guidance on strategies to avoid them or persevere through them.
Leadership learning is a visual endeavor because members are more inspired by action than words. What the leader speaks is what the leader knows, but what the leader does is who the leader is. This concept is especially pertinent in the area of professional growth. Some leaders use professional development and growth as a means to an end. These leaders stop seeking growth once they achieve their goals. However, they attempt to motivate members with stories of how they once sought development and were successful. Just like the Marines who completed the run, they were saying, "Look at what I did! You can do it too!" This method of leading is flawed because it makes professional growth and development about the destination rather than the journey.
Demonstrate a commitment to learning through different perspectives
Once we attain a certain level in the fire service, time constraints often preclude the pursuit of things like advanced degrees and off-duty seminars or webinars. But senior fire officers have other avenues to development, including in-service training, reading and research, and even lecturing and article-writing. You should share new ideas and lessons to demonstrate your commitment to continuous learning and growth. A leader who models desired behavior will inspire others to follow this example.
Another way to model leadership is in how you treat your team. Some fire officers look at their department's organizational chart and see a hierarchy that represents the value and contribution of each member of the organization. They see subordinates as those members assigned to them to help them perform their duties. A better perspective for officers is to look at their position on the chart and see themselves as leaders who can help those below them succeed.  Picture your department's organizational chart inverted, and you'll notice that each leader is responsible for the development and success of their direct reports. This view of the chart also reflects the contribution of members expected to carry out the goals of the department, plus highlights the obligations we have to those members.
At the very core of every fire department's mission statement is our commitment to save lives, protect property and serve the public. In the inverted organizational chart, those at the top carry out the department's mission. Those of us near the bottom of the inverted chart are simply facilitators. We provide direction, formulate plans, and determine and provide the resources necessary to execute the plans. We must overtly recognize every team member's role and contributions on an individual level.
An officer who invests in and demonstrates a commitment to individuals are more likely to inspire others to follow. Members want to know that their leader is consistent, competent, caring and trustworthy. Consistently and genuinely demonstrating these qualities will allow officers to build credibility with members. Credibility equals capital in the art of leadership and influence.
Actively model inspiration
As fire service leaders, we all want to set a positive example for our members to follow. We want to demonstrate through our actions the behavior we want them to exhibit. Oftentimes, this is not enough if the follower is not inspired to follow the leader. We can display competence and positive behavior forever, but an uninspired follower still will not follow. They will simply do what you tell them as their superior, but you will wield no real influence over them. Leadership by role modeling begins with inspiring the member to want to follow. Members will be inspired by their leader knowing, going and showing the way, as well as investing in their development and success.
Reference
Maxwell, J.C. (2005). "The 360-degree leader: developing your influence from anywhere in the organization." Nashville: Nelson Business.
About the author
Cedric Patterson is an assistant fire chief with Navy Region Mid-Atlantic in Virginia Beach, Virginia, responsible for the oversight of Operations, Fire Prevention, Fire Department Training, and CFAI Accreditation for five military installations in southeastern Virginia. Chief Patterson began his career as an active-duty firefighter at Marine Corps Air Station Yuma, Arizona, in 1996, and entered into civil service as a probationary firefighter at Brooks Air Force Base in Texas in 2000. He holds an MBA in strategic management of organizations from the University of Houston-Victoria as well as a triple designation from CPSE (CFO, CTO, FM), and is a current candidate for the Public Leadership Credential from the Harvard Kennedy School of Government.