Q&A: The fire chief's role during the COVID-19 national emergency
IAFC President Gary Ludwig offers leadership advice and explains how a new task force can offer guidance
---
With the COVID-19 pandemic dominating our news feeds – and call volume in many areas – it's natural for first responders on the front lines to feel overwhelmed.
The same is true for the fire chiefs leading the strategic and operational charge, directing their members, redistributing resources, developing short- and long-term contingency plans and so much more.
"As fire chiefs who are used to being in charge and can solve any problems that come their way, this crisis can cause anxiety," noted Gary Ludwig, International Association of Fire Chiefs (IAFC) president and member of the FireRescue1/Fire Chief Editorial Board.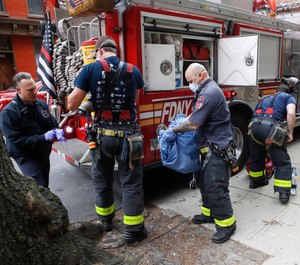 I connected with Chief Ludwig to learn about how chiefs can best navigate this national emergency and how the IAFC's newly formed Coronavirus Task Force can help.
FireRescue1: What is the role of fire chiefs in a pandemic-related national emergency?
Chief Ludwig: The main role of fire chiefs during this national emergency is first, maintain the health and safety of our firefighters while also serving the needs of our communities during this challenging time. It requires us to juggle many balls in the air at the same time.
How can chief officers protect their members at a time like this?
The IAFC has provided a resource page at IAFC.org/Covid19. All the recommended best practices with recommendations from the CDC and WHO can be found on this page, along with recommendations from the Coronavirus Task Force.
How can the Coronavirus Task Force serve fire chiefs and what is your ultimate goal with it?
The goal of the Task Force, which is chaired by Fire Chief John Sinclair, is to continually provide information to fire chiefs on the latest information, impact, best practices, science, and data to assist fire chiefs to make timely and informed decisions to best keep their firefighters safe while serving the community. This includes weekly webinars on Monday at 4 p.m. EST. You can register at www.IAFC.org
How often will the task force meet?
The task force meets twice a week and then as needed.
How does the Fire & EMS Impact Dashboard work?
The dashboard provides a snapshot of the current impact to fire and EMS personnel who are diagnosed, exposed and quarantined. Fire and EMS agencies are encouraged to submit their data, as the IAFC has become the central collection point for this data. You can enter data at IAFC.org/covid19.
What should fire departments consider when it comes to staffing issues – backfilling or asking for help?
Fire departments in high-risk impact areas should consider preparing for a large number of personnel to be out sick and should make alternative plans, including rolling a three-shift fire department into two shifts, or a four-shift fire department into three shifts. The IAFC continues to review the CARES Act to see if any overtime, backfill or other personnel costs can be recovered as part of the Disaster Relief Fund.
How is the IAFC serving fire and EMS leaders during this national emergency?
We are leadership for over 1.2 million firefighters and over 29,000 fire departments in the United States. Our staff is working an inordinate number of hours to serve our members and the fire service. The IAFC has established an operations center to handle the many facets of this national emergency. Additionally, our three Government Affairs employees continue to work with the White House and Congress on legislation, relaxing of regulations, and other issues to make sure the fire chiefs and the fire service is represented.
Do you have a message of encouragement for the fire and EMS personnel on the front lines of this crisis?
These are difficult times for everyone. We do not see the end in sight. As fire chiefs who are used to being in charge and can solve any problems that come their way, this crisis can cause anxiety. But the American people and the fire service are a resilient people who have overcome anything in its history that they have been faced with. This challenge will one day be will over and we will learn many lessons. There is always a green light after the red light.
Note: The IAFC Coronavirus Task Force holds webinar updates every Monday at 4 p.m. ET. Listen in here, and learn more at the IAFC Coronavirus resources page.