$90M approved for Atlanta's controversial public safety training center
Supporters say Cop City, the nickname for the training center, which has been the scene of violent protests and a fatal shooting, will boost training, recruitment and retention
---
By Riley Bunch, Brian Eason
The Atlanta Journal-Constitution
ATLANTA — Across more than 14 hours of public comment, hundreds of opponents to Atlanta's proposed public safety training center took their turn at the podium inside City Council chambers to deliver a simple message: Cop City will never be built.
But in a matter of minutes — at 5:30 a.m. and with the still-packed audience inside City Hall chanting "The world is watching" — the Council responded with a message of its own.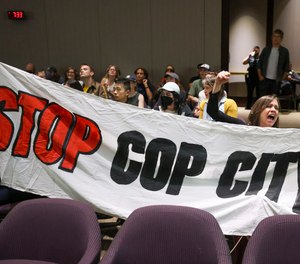 Yes, it will.
Atlanta City Council early Tuesday morning approved a funding package that clears the way for the construction of a $90 million public safety training center. It was an 11-4 vote with council members Jason Dozier, Liliana Bakhtiari, Keisha Waites and Antonio Lewis voting against the proposal.
A motion just prior to the final vote would have sent the funding plan back to a council committee for more debate. It failed by the same margin.
City taxpayers will contribute $67 million for the project — a $31 million one-time payment toward construction and annual $1.2 million payments across 30 years.
The vote caps a debate that has roiled the city's politics for the better part of two years. The project pitted one Democratic administration and then the next against social justice and environmental activists, who bitterly opposed the facility's construction.
Supporters said the center is badly needed, not only to enhance training for existing police officers and firefighters but also to boost recruitment and retention as the city continues to struggle to fill vacant positions.
To opponents, the project became a potent symbol of a government that was ignoring the will of its citizens, was militarizing police and badly damaging a huge urban forest.
Many of these same activists helped propel Democrats to office in local and national races, only to see two of their top priorities — law enforcement reform and environmental protection — lose out in favor of devoting more public resources to police.
"Our demands … were for justice and accountability," said Rev. James Woodall, alluding to the social justice movements of 2020. "And in this legislation, neither of those are included."
The city's share is much larger than the public was previously told.
President Doug Shipman struggled to keep control over the chamber throughout the day and into the night. Attendees rang out in cheers and boos, stretched a "Stop Cop City" banner across rows of seats and engaged in multiple sparring matches with Council members Michael Julian Bond and Antonio Lewis.
Speakers returned time and again to a few common themes. Some shared stories of police violence and others listed concerns about the survival of the South River Forest. Most voiced frustration over what they viewed as a lack of transparency since the project's inception and a lack of recognition of the size of their movement.
"I've never spoken at council before, but I've been so disturbed by how the city has ignored the voices of its constituents, lied about how much money is going to this facility and violently suppressed its own residents for protesting and organizing," said southwest Atlanta resident Robell Awake.
"Just so that the police can build a new training center that we don't need, that we don't want," he said. "I knew I had to be here today."
Ahead of the final vote, Council member Amir Farokhi offered a series of amendments that added new requirements, including for use and preservation of surrounding greenspace, and for the curriculum taught at the facility. Of note, it also prohibited other non-Atlanta agencies from using the center without approval from City Council.
Just four public commenters — out of more than 350 who had signed up, and even more who were allowed to speak in two additional sessions — were in favor. And none of the 11 council members who voted for it, including Wan, explained why Tuesday morning.
"Just thinking about the funding part of this makes it an easy no-vote for me," Lewis said. "The money that they spent on this, I know we can help some young folks who need some help in the city of Atlanta."
Since the last crowded meeting on May 15, which included 7 hours of testimony, tensions have only risen. The recent arrest by the Georgia Bureau of Investigation of three training center opponents on fraud and financial charges last week fueled calls to speak against the project.
A particularly emotional moment gripped the chamber around 7 p.m.
A representative from the Atlanta Justice Alliance read a statement on behalf of the three bail fund organizers arrested on financial charges in the recent raid — DeKalb residents Marlon Scott Kautz, 39, and Adele Maclean, 42, and Savannah D. Patterson, 30, of Savannah.
The three awoke Wednesday to dozens of police with assault weapons surrounding their home, known as the Teardown House, on Mayson Avenue. Police threatened to throw a flash-bang grenade into the living room, the statement said.
"We, of course, surrendered peacefully and were taken to jail in our pajamas," they said.
Opponents of the training center have accused the city and state government officials of executing the raid to quash dissent.
"As we saw with the killing of Manuel "Tortuguita" Teran, there seems to be no limit to the violence police are willing to direct against those they see as political opposition," the statement from the people arrested said.
Teran was shot and killed by state troopers during a clearing operation of the site. Law enforcement said Teran fired gunshots at law enforcement first, an account his family disputes.
As the night wore on, opponents became more emboldened, breaking out in chants, cheers and angry jeers in open defiance of council rules that seek to maintain a polite decorum in the chamber.
A series of tense exchanges between the crowd and two council members threatened to derail the proceedings.
After one speaker complained that Bond spoke with "disdain" when he made a reference to the activists, the councilman spoke at length about his own history as a civil rights activist and member of the NAACP.
Those in attendance stood and turned their back on him when he spoke.
Just before 10 p.m., Council member Bakhtiari called for a brief recess that seemed to catch the entire chamber off guard.
"I do not know how to move forward," Bakhtiari said, stepping down from the dais to ask those in attendance to stop criticizing council members by name. Otherwise, she said, the council would clear the chamber and move the meeting to a small committee room.
Some members had received death threats from training center opponents, Bakhtiari said, and the angry mood in the room was making them nervous. The meeting resumed with a little more order and speakers refraining from name-dropping individual council members.
Until around 2:30 a.m., when the meeting devolved into chaos.
An extra hour that the council had allotted for public comment had run out. But the next speaker in line began yelling her comments into the mic before a police officer turned it off at the podium.
Attendees left in the chamber yelled over council members and each other. Chants of "let us speak" filled the room.
Council members moved back and forth across the dais debating whether or not to continue or move to a closed committee room for the remainder of the meeting.
Ultimately, the meeting resumed: The Council voted unanimously to allow the 22 people left in line to speak.
"We have rallied, we have marched, we have called, we have written letters, we have engaged in civil disobedience just as our ancestors did," said Rukia Rogers, founder of Highlander School. "…And somehow I thought my voice matters."
©2023 The Atlanta Journal-Constitution.
Visit at ajc.com.
Distributed by Tribune Content Agency, LLC.
McClatchy-Tribune News Service