Atlanta officials approve $18M for fire apparatus, equipment
Fire Chief Rod Smith said orders have already been placed, taking up to three years to receive
---
By Riley Bunch
The Atlanta Journal-Constitution
ATLANTA — Atlanta City Council members unanimously passed legislation on Monday to allocate $40M for new police and fire equipment as first responders across the city struggle with out-of-service vehicles.
For weeks, the Atlanta Fire and Rescue Department has warned that a handful of critical ladder trucks and other equipment has forced the department to share trucks between stations, and even shutdown stations due to the equipment shortages.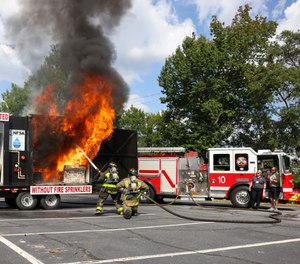 While anywhere between five to 20 trucks have been sidelined for maintenance problems, firefighter advocates say, call volumes have continued to increase across the city steadily for years.
[PREVIOUSLY: Atlanta struggles with apparatus shortage, increasing call volume]
Council members place blame on previous administrations that failed to keep up with ordering new trucks while supply chain issues drag out delivery times. According to Fire Chief Rod Smith, orders already placed with manufacturing companies are taking up to 36 months to receive.
"The city has not added any new engines or trucks to its fire fleet since, I believe, 2019 or 2020 during the prior administration," Council member Dustin Hillis, chair of the public safety committee, told The Atlanta Journal-Constitution.
Legislation passed by council allocates enough money — around $18 million — for one ladder truck, eight fire engines, one utility truck, two rescue boats, 45 defibrillators and breathing devices.
City Council is also requesting Invest Atlanta approve $5 million for additional fire equipment at three stations within the city's tax allocation districts.
The Atlanta Police Department saw even more funds dedicated to new equipment. More than $20 million will go toward new patrol cars, motorcycles, four wheelers and vans. The order includes 150 new Dodge Durangos and 55 Dodge Chargers.
Mayor Andre Dickens praised the extra funds as "vital investments" to public safety.
"These investments will include new fire engines, trucks and life saving apparatus for the Atlanta Fire Rescue Department as well as expanding the Atlanta Police Department's take home vehicle program," Dickens said in a statement.
"This Administration is committed to supporting both APD and AFRD, and we will continue to ensure they have the resources and support they need to keep our entire city safe and secure," he said.
©2023 The Atlanta Journal-Constitution.
Visit at ajc.com.|
istributed by Tribune Content Agency, LLC.
McClatchy-Tribune News Service