Ill. city council expects to save $1.9M in replacing, upgrading EMS equipment
The Bloomington City Council's agreement with Stryker will outfit FD vehicles with the latest technology
---
By Drew Zimmerman
The Pantagraph
BLOOMINGTON, Ill. — The Bloomington Fire Department is estimated to save about $1.9 million replacing and upgrading its emergency response equipment over the next 10 years as a result of an asset management agreement approved by the City Council on Monday.
The agreement, which was approved as part of the City Council's consent agenda, would be with Michigan-based Stryker Medical. For more than 15 years, the fire department has used Stryker to purchase ambulance equipment such as cots, dollies, defibrillators and CPR devices that perform chest compressions when someone goes into cardiac arrest.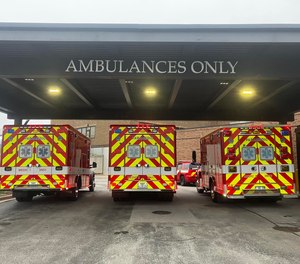 Bloomington Deputy Fire Chief Cory Matheny said the department is on a replacement plan that allocates roughly $200,000 a year to maintain ambulance equipment as it approaches the end of its life cycle.
"As our call volumes have increased and the population has increased, we've noticed that we now need to expand those services and that equipment to more vehicles," Matheny said. "What we've seen over the last five years is at least seven or almost 10% price increases annually on these pieces of equipment."
The agreement with Stryker would set a levelized annual cost of about $412,700 to outfit all of the fire department's vehicles with the latest technology.
Matheny said one of the pieces of equipment he is most excited about is a Power-LOAD device, which will be mounted to the back of each ambulance.
"We average five transports a day for an average unit; the effect on the body is they're lifting per person about 2,400 pounds over that shift," Matheny said.
However, Matheny said the new devices would lower the daily burden of each responder to about 1,000 pounds.
In addition to the $200,000 annual contribution, the fire department would receive a roughly $116,000 increase to General Emergency Medical Transportation, a federally funded Medicaid program.
Although the city would have to pay an additional $97,000 a year at the start of the agreement, the level payments are estimated to save the city roughly $1.9 million over the next 10 years.
Matheny said the fire department also would receive a brand new set of equipment within the next five years.
With the agreement in place, the city will process a budget transfer of $160,000 to the fire department's maintenance, office and computer equipment account for the 2024 fiscal year. After that, the city will budget the $412,700 stipulated in the agreement for the next 10 years.
(c)2023 The Pantagraph (Bloomington, Ill.)
Visit The Pantagraph (Bloomington, Ill.) at www.pantagraph.com
Distributed by Tribune Content Agency, LLC.
McClatchy-Tribune News Service