Lawmakers point to Boston's 'Methadone Mile' in needle-stick bill for first responders
The bill presumes disabling or fatal infectious diseases were suffered in the line of duty as a result of injury due to uncapped needles
---
By Gayla Cawley
Boston Herald
BOSTON — State lawmakers are weighing a bill that would provide coverage to first responders who become ill from on-the-job exposure to uncapped needles, a risk that is particularly prevalent for those who respond to the Mass and Cass area in Boston.
The legislation, filed by Sen. Nick Collins, would add a section to state law that presumes disabling or fatal infectious diseases were suffered in the line of duty by firefighters, police officers and EMS workers, "for the purposes of any death, disability or medical services claim."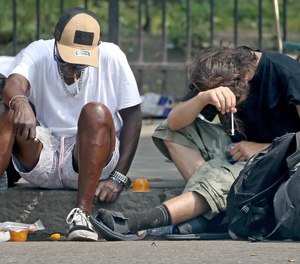 The presumption is dependent upon whether a first responder successfully passed a physical examination on entry into service, or subsequent to such entry, and the examination failed to reveal evidence of an infectious disease, the bill states.
"The issue of the opioid crisis and our first responders responding has been an issue for years, but it's gotten dramatically worse," Collins told the Herald. "Mass and Cass is out of control. It's an infectious disease Petri dish."
Also known as Methadone Mile, the region located around the intersection of Melnea Cass Boulevard and Massachusetts Avenue has long been known for drug use and homeless encampments.
"Our public employees, including public health and public works officials are being exposed to a lot, but none worse than our first responders," Collins said. "The bill serves to show them and their families the respect and dignity they deserve when one-the-job exposure leads to a disability."
There were 2,310 confirmed opioid-related overdose deaths throughout Massachusetts in 2022, including 247 in Boston, according to data from the state Department of Public Health.
The risk the bill seeks to address is highlighted in a recent Boston Police report, pertaining to an incident that occurred last Saturday at Mass and Cass. Three people were stabbed near a tent that was set up at the intersection of Atkinson and Southampton streets, the July 15 report states.
"It should be noted that officers had to be cognizant of the hundreds of open, uncapped hypodermic needles when responding, as well as numerous individuals that were also in the area," the police report states.
"Lt. Staines had to broadcast the health risks and danger that officers were facing when they were administering lifesaving first aid and scene security."
To combat this problem, the city collects thousands of needles per month through a variety of programs coordinated by the Boston Public Health Commission's Office of Recovery Services.
"BPHC outreach workers also regularly canvas areas of the city to collect discarded needles and other hazardous drug-related paraphernalia," said commission spokesperson Jonathan Latino. "We encourage residents to contact 311 if they encounter a discarded needle. The city's Mobile Sharps Team will respond to collect the syringe from the area."
According to the city's Mass/Cass dashboard, 85,325 syringes were collected in December 2022, the last month data is available. The numbers were much higher in November and October of last year, when 203,469 and 304,898 syringes were taken in, respectively.
The city collects more syringes than it gives out monthly through a syringes services program it operates in accordance with CDC guidelines. These programs have been shown to reduce the rates of HIV/AIDS, hepatitis and other infectious diseases, the dashboard states.
If the bill passes, the new section of state law would apply to COVID-19, hepatitis A, B or C, tuberculosis, HIV, "and any other contagious disease which is found by regulation by the commissioner of the department of public health to have a statistically significant correlation with police, fire or emergency medical service."
It will be discussed at a Joint Committee on Public Service hearing on Tuesday.
©2023 MediaNews Group, Inc.
Visit at bostonherald.com.
Distributed by Tribune Content Agency, LLC.
McClatchy-Tribune News Service