Sanders introduces bill to nearly triple AFG, SAFER funding over 5 years
The Vermont senator met with fire and EMS members in January to hear their concerns brought on by the pandemic
---
By Leila Merrill
WASHINGTON — On Monday, Vermont Sen. Bernie Sanders introduced a bill he said would triple funding for firefighter recruitment and retention via two grant programs over five years, the Eagle Times reported.
The proposed legislation, the Firefighter Staffing and Support Act, calls for $12 billion to be funneled through the AFG and SAFER programs.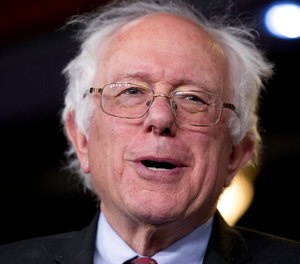 The measure also includes programs that offer technical assistance to those seeking to apply for these funds.
Sanders met with Vermont firefighters and EMS providers in late January to learn about challenges triggered by the pandemic.
"Career and volunteer fire departments in Vermont and across America are facing unprecedented challenges," Sanders stated in a release. "The difficulty in recruiting and retaining personnel is an absolute crisis that has left fire departments and the communities they protect dangerously short-staffed. There are a lot of reasons why we are where we are. But in my view, one thing is entirely clear: Our firefighters, both volunteer and paid, put their lives on the line to protect our communities, but they are not getting the proper support and resources they need and deserve. It's time for that to change."