Senators probe response to Ohio train derailment
Ohio Western Reserve Joint Fire District Chief David Comstock urged increased funding for grants and safety programs to support hazmat training for firefighters
---
The Senate Commerce Committee held the second hearing in review of January's Norfolk Southern train derailment that left East Palestine's 4,700 residents jittered and Congress taking a serious look and how hazardous materials are transported by rail. Moreover, they asked questions specifically on behalf of the fire service with a level of specificity and impatience not often seen on Capitol Hill.
Junior Senator JD Vance (R-Ohio) argued that a bipartisan bill introduced would address concerns about forcing first responders to arrive at a chemical fire without proper hazmat protection and insufficient operational training within department ranks. NTSB Chair Jennifer Homendy suggested at the hearing that more firefighters need training that goes beyond the awareness level.
Further, Sen. Sherrod Brown (D-Ohio) told the Committee that East Palestine has one paid firefighter, the chief, and about 20 volunteers, "and they obviously are not going to be able to train them all to combat hazmat fires. But we want to look at it in a regional way all over the state and all over the country."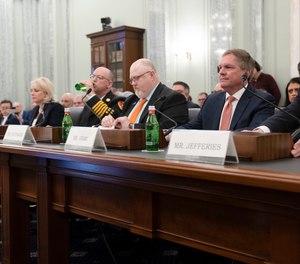 Regulatory action long pending
Vance learned from Homendy that several recommendations, including providing real-time information to emergency responders, training, gear and planning between locals and railroads, have not been executed years after the 2015 FAST Act was signed into law. Section 7302 of the Fixing America's Surface Transportation Act gave the federal government a year to require through regulation that rail shippers be able to provide real-time information to public safety about hazmat trains.
NTSB has several open recommendations to the Pipeline and Hazardous Materials Safety Administration (PHMSA) related to emergency response notification, but one senator suggested that that agency "has simply failed to prioritize" action. PHMSA began that process in 2017 but failed to meet a December 2022 deadline under the Infrastructure Investment and Jobs Act to finish it. Sen. John Thune (R-S.D.) believes that could have made a difference for East Palestine responders.
Train, equip and inform
Ohio Western Reserve Joint Fire District Chief David Comstock emphasized the need for better training and equipment for firefighters to respond to hazmat incidents, particularly in rural areas served by volunteer fire departments that often lack resources and staffing.
"We want to have as much information as we can and whether it's a car accident, whether it's a medical emergency, house fire or hazardous materials incident, so the more information and the quicker we need information, the better," he said.
Comstock noted that 55% of firefighters are certified at a hazmat operations level of competence, and that hazmat training is often difficult for volunteers to access. He requested that Congress increase funding for grants and safety programs to support hazmat training for firefighters.
Clyde Whitaker, Ohio State Legislative Board Director for Smart Transportation, criticized railroads for being "on a determined course to grow these trains to astronomical lengths," prioritizing the movement of trains over safety, and warned that operational changes by Norfolk Southern prior to the recent derailment in East Palestine had not been made.
Railway app
Ian Jefferies, CEO of the Association of American Railroads said his organization is seeking help from Congress to build awareness and improve access to information by transitioning to an emergency communication center model, as not all rural areas have cell service to access the AskRail app. Yet, interestingly, it was Jeffries who expressed more interest in dispatch centers acting as the point of reference precisely because of radio dependability. Jefferies told Senators that the Association "just sent letters out every firefighter association in each state" to build awareness.
Senator Ben Ray Lujan (D-N.M.) shared colleagues' frustration. According to Lujan, initial reports about the East Palestine derailment "was that there was a concern, a high concern, of hazardous materials being carried on that train. It was corn syrup. So while I appreciate information was shared, that doesn't sound to me like first responders are being looked after."
Gov. Mike DeWine (R-Ohio) concurred in his statement, noting that "the railroad really has unique information" first responders should know. The night of the derailment, "they didn't know what they were fighting. They didn't know what they were dealing with, at least not for sure."
Aside from a debate about whether AskRail helped, "the problem is when you have a derailment and train cars are bunched up," Homendy said. "When you're pulling up a concept from the AskRail app, it goes by car," she explained to Lujan. But "if you're looking at a derailment with cars all over the place again bunched up, you're not going to know what's in what car. So that's not helpful."
What's ahead
Senators are clearly interested in getting more answers – including into the decision to vent and burn the vinyl chloride from five derailed tank cars in East Palestine. Regulators from NTSB to PHMSA and others will be back on the Hill this week for budget hearings – always an occasion for lawmakers to ask about policy. Chances are good that a legislative response like the FAST Act – passed seven months after a derailment in the Kensington area of Philadelphia – will move in the next couple years.
Read the Railway Safety Act of 2023
Read Chief Comstock's testimony and watch the full hearing here.