Washington House passes aerial fire suppression aid legislation
The bill would authorize the Department of Natural Resources to assist local and tribal departments during the initial attack on a wildland fire
---
By Rebecca Pettingill
Columbia Basin Herald
OLYMPIA, Wash. — Legislation to fund aerial fire suppression assistance for small and rural fire departments passed the state House Wednesday.
"Listening to some of the people here at my district, they have always been afraid to order aircraft because of that dollar amount," said Grant County Fire District 7 Chief Chris Baker. "So, we've had some fires that could have definitely used it that were very large. I think it's about time and as long as we have training in place to ensure that everyone is responsible with that resource, it's going to be really important — a great asset for us."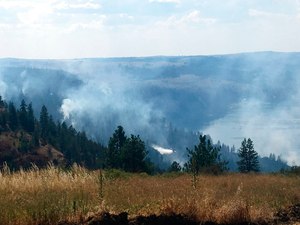 House Bill 1498 would authorize the Department of Natural Resources, subject to appropriation, to use wildfire suppression funds to assist local and tribal fire departments with aerial fire response capabilities during the initial attack phase on a wildland fire, according to a press release from prime sponsor Representative Mary Dye, R- Pomeroy. It also would require DNR to convene a work group composed of wildfire aviation experts, wildfire aviation contractors, fire service representatives, wildland fire management staff and others to develop a state certification program for aircraft and pilots used in wildfire suppression.
"What we tried to make with the bill is a rural fire department could call for aviation assets if they have a wildfire without going through the state mobilization process because the idea is the initial attack in wildfires is everything," said Representative Tom Dent (R- Moses Lake), in an earlier interview about the bill.
Dent is not only a sponsor of the bill but is also a ranking member on the House Agriculture and Natural Resources Committee, a pilot and a senior member of the State Legislative Wildfire Caucus.
Baker said that when he was first interviewing for the position of chief that funding for air support was one of his top priorities.
"So, I had that question before I got here and I found that there was some discussion on a bill being introduced (to fund aviation suppression), so I'm very happy that has happened," Baker said.
Baker said air assets are even more important in volunteer agencies, such as GCFD 7, not just in terms of the budget for the department but also for firefighter safety and effectiveness on keeping the fire from spreading.
"Minutes count when a fire breaks out. If local fire districts can immediately begin using air support to attack a fire, it could be out much quicker, prevent destruction of timber and range land, protect our air quality, and save the state millions of dollars. That's opposed to if those fire chiefs must wait for state mobilization efforts. In the period of that waiting time, a small fire could explode into a large one," Dye said in the press release. "This bill would allow local air support to take place quickly and provide reimbursement to those local fire suppression entities."
The House passed the bill 97-0, and it now moves to the Senate for consideration. It was one of the final bills to be released to the House floor on Wednesday for a vote before the 5 p.m. deadline for legislation to pass from its chamber of origin to survive in the 2023 legislative session.
___
(c)2023 the Columbia Basin Herald, Wash.
Visit the Columbia Basin Herald, Wash. at www.columbiabasinherald.com
Distributed by Tribune Content Agency, LLC.
McClatchy-Tribune News Service