1 dead, 8 injured in GloRilla concert stampede
A panic sent people rushing for the exits when audience members thought they heard gunfire at the Rochester venue
---
By Geoff Herbert
syracuse.com
ROCHESTER, N.Y. (TNS) — A 33-year-old woman was killed in a stampede during a GloRilla concert in Upstate New York.
WHEC reports the woman died Sunday when audience members thought they heard gunfire inside the Main Street Armory in Rochester around 10:30 p.m. A panic sent people rushing for the exits, reportedly crushing the woman to death and injuring eight others; two suffered critical, life-threatening injuries and were taken to the Strong Memorial Hospital by ambulance.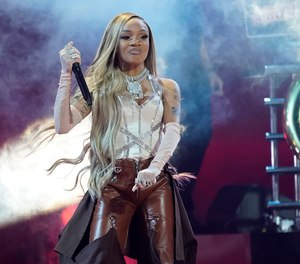 "All I know, it was a lot of running. A lot of people got hurt. I see people on the ground, like hurt badly," one attendee told WHEC. "It was deathly packed. So I knew I had to get up out of there."
Rochester Police said there was no evidence to support reports of gunshots during the concert. None of the victims' injuries were consistent with a person being shot, Lt. Nicholas Adams said.
It's unclear why concertgoers mistakenly believed they heard shots.
The incident happened during a rap concert performed by GloRilla and Finesse2Tymes. GloRilla, whose real name is Gloria Woods, is a Grammy-nominated rapper best known for the hits "F.N.F. (Let's Go)" with Hitkidd and "Tomorrow 2″ featuring Cardi B; she performed at the Grammys last month during the awards show's tribute to the 50th anniversary of hip-hop.
"I'm just now hearing about what happened wtf praying everybody is ok," GloRilla wrote on Twitter late Sunday night, adding crying and prayer emojis.
Rochester police said they would provide more updates at a press conference Monday morning.
©2023 Advance Local Media LLC.
Visit syracuse.com.
Distributed by Tribune Content Agency, LLC.
---
Related:
McClatchy-Tribune News Service