Calif. city officials apologize for delayed recognition for mass shooting response
"Our guys felt like they didn't exist," said Chief Matt Hallock. "I have several paramedics who aren't back to work, and I don't know if they will come back"
---
By Jeong Park
Los Angeles Times
MONTEREY PARK, Calif. — Monterey Park City Manager Ron Bow apologized to the city's Fire Department on Tuesday, saying he should have acknowledged sooner the department's first responders' role — and their pain — in responding to the Jan. 21 mass shooting.
"Our Fire Department took a back seat," Bow said at a news conference Tuesday afternoon outside City Hall. "Trauma these first responders experienced ... could cause everlasting effects."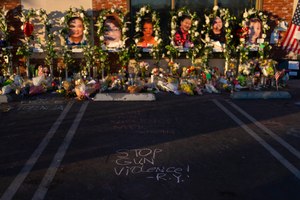 The shooting at Star Ballroom Dance Studio, which killed 11 and injured nine, deeply affected the Fire Department, Chief Matt Hallock said, and the lack of recognition was felt.
"I can say — I don't think the city manager would object — our guys felt like they didn't exist," Hallock said.
Hallock said 18 of his 51-member department responded to the shooting, helping save the lives of nine people who were injured. His department dedicated much of this week to helping its staff mentally recover, he said.
"I have several paramedics who aren't back to work, and I don't know if they will come back to work," Hallock said, choking up. "I care about each and every one of them."
The recognition of the department and its staff is important for its healing, Hallock said.
Ten days after one of the deadliest mass shootings in Southern California history, Monterey Park officials at the news conference also outlined some ways they planned to help the city and its residents recover.
Officials said they would partner with the California Community Foundation and other nonprofits to create a city-endorsed support fund for the victims, survivors and their families.
They also outlined several resources for the residents, such as drop-in counseling and services at Bruggemeyer Library across from City Hall. Counselors will also be available weekdays this week at the Langley Senior Center from 9 a.m. to 4 p.m.
This story originally appeared in Los Angeles Times.
©2023 Los Angeles Times.
Visit latimes.com.
Distributed by Tribune Content Agency, LLC.
McClatchy-Tribune News Service