Dr. Douglas Kupas: Teamwork key to response to MCI at fundraiser for Pa. fire that killed 10
He was on scene as the EMS incident command and said more than 100 EMS, fire and police personnel from several municipalities and counties responded
---
Bill O Boyle
The Times Leader, Wilkes-Barre, Pa.
WILKES-BARRE, Pa. — The emergency medical services physician that was on the scene in Berwick on Aug. 30 when a car smashed into a crowd gathered at the Intoxicology Department fundraiser for victims of a Nescopeck fire that claimed 10 lives said teamwork was the key to care for the injured people.
Dr. Douglas Kupas, Geisinger Medical Director of Emergency Medical Services, on Monday said he was dispatched to what he described as a chaotic scene that sent 17 patients to Geisinger hospitals and others to nearby facilities.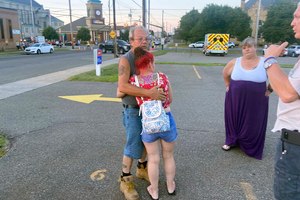 The "mass casualty incident" at Intoxicology Department on West Second Street occurred shortly after 6 p.m. on Saturday, Aug. 13. The attack also left one woman dead, identified by the Columbia County coroner as 50-year-old Rebecca Reese of Wilkes-Barre.
The suspect in this investigation, Adrian Oswaldo Sura Reyes, has been charged with an open count of criminal homicide. Sura Reyes has also been charged with an additional count of criminal homicide after police say he struck his mother with his vehicle and then beat her to death with a "blunt object," described by authorities in the suspect's criminal affidavit as a hammer. That incident took place on the same day outside a residence on Ridgewood Avenue in Nescopeck shortly after the mass casualty incident in Berwick.
Sura Reyes remains jailed at the Columbia County Correctional Facility. Pennsylvania State Police say that Sura Reyes could face additional charges at a later date.
Dr. Kupas said he was on the scene as the EMS incident command and he cited several key points that played out to get patients cared for as soon as possible.
"First of all, there was tremendous teamwork among more than 100 EMS, fire department and law enforcement personnel," Kupas said. "There were several things going on at the same time that needed immediate attention."
Kupas said first responders from several municipalities and counties responded to the scene and Geisinger personnel and vehicles, including its LifeFlight helicopter, were dispatched. He said emergency vehicles from Geisinger and nearby towns were also on the scene and a second helicopter.
"The three most critical patients were rapidly identified and triaged," Kupas said. "Those three patients were taken in the helicopters. To me, that's a real success. All of the training we've had prepared us for this type of mass casualty event and everything went into place perfectly."
Kupas said the most critical patients left first in helicopters and those less seriously injured were transported in ambulances.
Kupas said when he arrived on the scene, his first priority was to assess the injured and get them triaged and transported to the hospital.
"Assessing each patient's needs and balancing your resources is key," Kupas said. "We were very fortunate that so many ambulances and personnel responded, including many who were off-duty who responded and brought more ambulances to the scene."
Kupas said a large open field nearby was quickly set up as a landing zone for the helicopters.
Kupas said Geisinger in Danville and Geisinger Wyoming Valley each have trauma centers and the most serious patients were taken to those facilities. He said Berwick Hospital and Geisinger Bloomsburg Hospital received lower-level patients.
"The scene was incredibly chaotic," Kupas said. "We managed to get everything under control quickly and we addressed each patient's needs."
Since that day, Kupas said he has had the opportunity to connect with many of the people to follow up.
"This was a community that had already just had another catastrophe and then this happened soon after," Kupas said. "We had to also pay close attention to the first responders because this can be very taxing emotionally on them. We had to make sure they had the resources available to stay mentally well. Sometimes the public is not aware of how that can be."
Kupas noted that many of the first responders had been to both the fire in Nescopeck and then were at the scene at Intoxicology Department. He said many were also dispatched to other emergency calls in the days after the car crash event.
Kupas said Geisinger has sent EMS personnel to training for mass casualty events and he said that training is critical for preparing for even ts like the one in Berwick.
"This is exactly why we go to training conference and why we also conduct training drills," Kupas said.
Since the Aug. 13 event, Kupas said first responders have gathered together to help them start to process what they went through and to make them aware of all resources that are available should they need further counseling.
Kupas said similar resources are also available for patients and their families.
"There are many layers of this," Kupas said. "Every mass casualty incident is different and they each lead to many different thoughts and processes. And this one definitely has some unique layers to it. That's why it's so important for patients, family members, bystanders, first responders, who can experience many issues with this type of event."
On Aug. 13, the crowd at Intoxicology Department had gathered for a benefit and fundraising event to raise money for those impacted by the Aug. 5 fatal house fire in Nescopeck, which left 10 dead.
In the days following Saturday's horrific tragedies, a community already reeling from a fatal fire the week before has started additional efforts to raise money for the victims of the crash in Berwick. Several GoFundMe accounts have begun to accept monetary donations for those injured on Aug. 13.
A memorial now stands outside Intoxicology Department Bar on West 2nd Street in Berwick. It's where a man killed one person and injured 17 Saturday as he drove his car into a crowd gathered for a fundraiser benefitting the victims of last week's deadly Nescopeck fire. pic.twitter.com/Y4xadxxoAb

— Madonna Mantione (@MadonnaWBREWYOU) August 14, 2022
___
(c)2022 The Times Leader (Wilkes-Barre, Pa.)
McClatchy-Tribune News Service