Your Ott House Pub stories: Firefighters reflect on the informal learning locale
Members of the FireRescue1 community share their stories, photos and reflections on this iconic Emmitsburg institution
---
The Ott House Pub in Emmitsburg, Maryland, has been the socializing spot for National Fire Academy visitors for decades. As Ben Thompson detailed in his article "The Ott House Pub: The kitchen table for America's firefighters," firefighters transition from the superb daytime learning opportunities at the NFA to the more informal nightly learning moments at the Pub.
If these walls could talk, they would surely have some great stories to share. We've got the next best thing – firefighters from around the country share their stories and insights about this iconic fire service institution, currently marking its 50th anniversary.
Thank you to all the members of the FireRescue1 community who shared your stories, photos and reflections with us on Facebook, LinkedIn and via email. If you have an Ott House Pub story to share, email editor@firerescue1.com.
From the superintendent himself
You know the Ott House Pub has been legitimized as a secondary NFA learning spot when the NFA superintendent himself jumps into the discussion.
Chief Eriks Gabliks posted to the Fire Chief Officer Network on LinkedIn:
The National Fire Academy appreciates the many decades of support and hospitality that the Ott House has provided to students, instructors, staff, and family members. The Town of Emmitsburg and Frederick County provide great hospitality year-round, and we are very thankful for the many partnerships we enjoy! Happy 50th Anniversary to our friends at The Ott House.
[Listen next: Superintendent Eriks Gabliks shares what's ahead for the National Fire Academy]
Photos from the Ott House Pub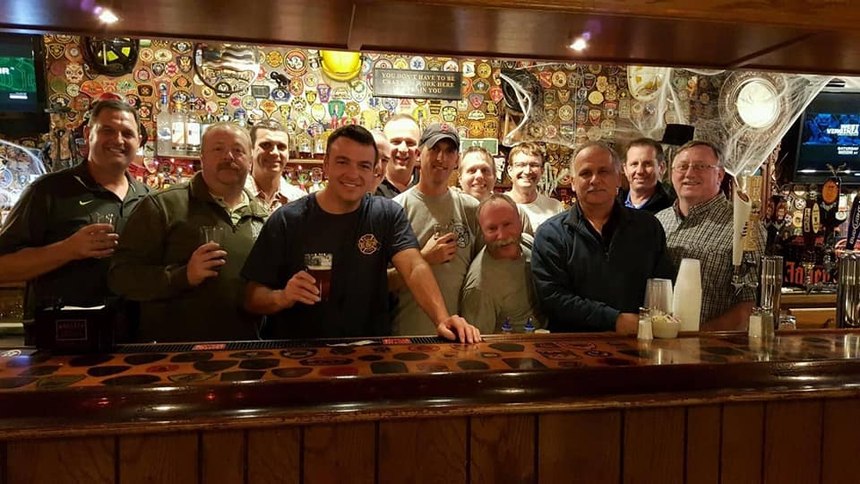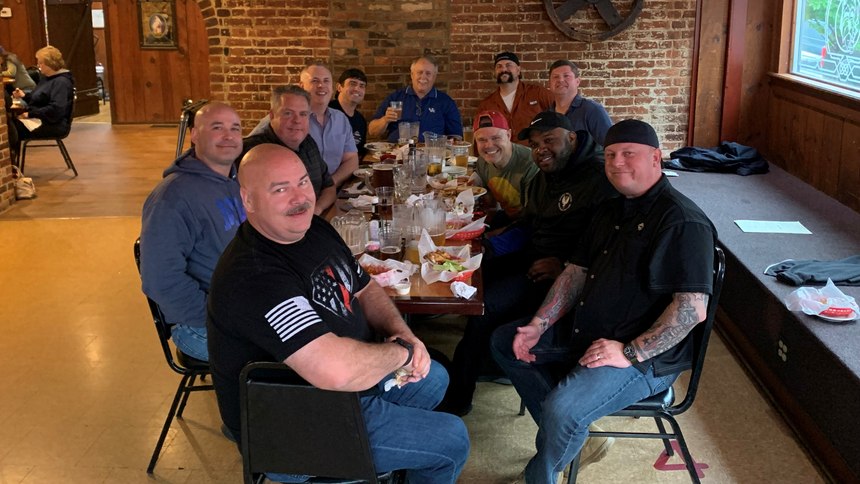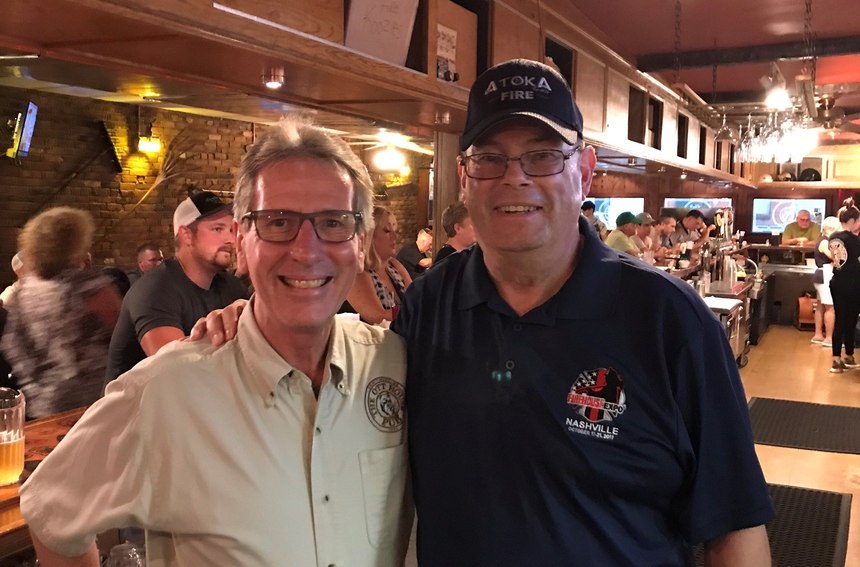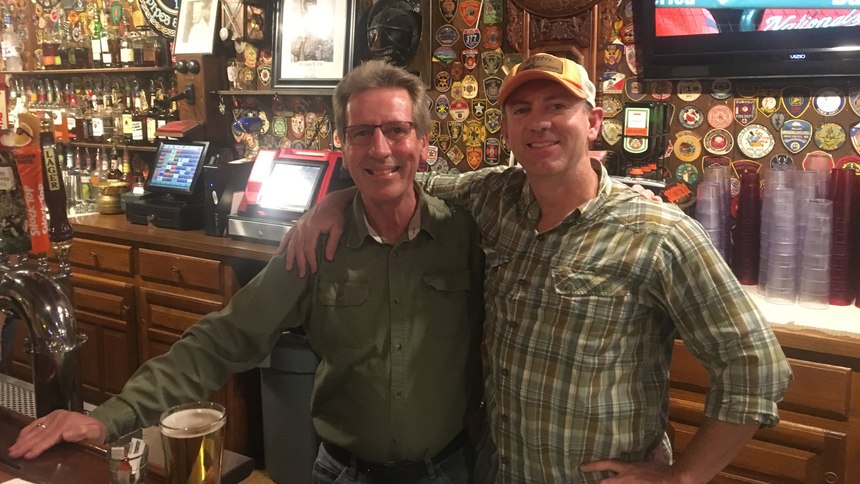 Ott House stories
Some of our FireRescue1 community members shared personal stories from the Pub.
Christopher E Black from Catoctin Mountain Orchard in Thurmont, Maryland, shared these stories:
My mom grew up with the Ott family, living two doors down from them, and I am the third generation of my family to still be close friends with them. 

My beautiful wife Kiona Black (Crum) is the third generation of her family to be a firefighter at Walkersville VFC Station 11. She is a top-notch MFRI Instructor and now currently works for MDEP (Maryland Department of Emergency Management) and well as continuing to teach for MFRI.  

Her mother, Winona Lee Crum, was a LODD on 04/02/1987 in Fredrick County, and her name is adorned on the Memorial at NETC. When we stop by the Ott House for a good meal and tasty beverages, we often talk with the visiting firefighters from all over the country and my wife tells them the story of her mom. The response from the Firefighters is always 'We will definitely stop by and pay respect to your mom.' We then continue with story after story of fire-related incidents. This shows the Brotherhood that is involved in the FD. And thanks to The Ott House, we fortunate enough to get to meet so many from all across this great nation. 
Maggie Lonergan shared this family connection to the Pub:
My husband Mike and I are both basketball coaches who met at the Ott House. We were working the Mason Basketball Camps and would go to Ott's in the evenings after we worked all day.  

Now my oldest son works there, and both he and my daughter attend the Mount and frequent Otts!

Many, many awesome memories with so many great basketball coaches in the summer and classmates throughout my 6 years of school there.  
Lee A. Cahanin, Opelousas fire chief (ret.), offered this glowing review of the Pub:
The Ott House Pub is truly an icon of America's Fire Service. First responders from firefighters to Chiefs, EMI and OEP directors to arson investigators, code enforcement officers, and class instructors all are represented on the walls of the Ott House.

Susie and Bobby, along with the rest of the staff, work tirelessly to accommodate both local and NFA attendees. It has been said many times that the development of relationships by the NFA attendees in the relaxed environment of the Ott House is invaluable to the experience.

The menu brings many choices, from buffalo wings to clam chowder, chili made daily or my favorite, the crab cake dinner – all treats to your taste buds! Not to mention the cocktails and concoctions of which are readily available.

There is another Anniversary being celebrated at the Ott House that should not go unnoticed. Larry and Susie Glass also marked their 50th Wedding Anniversary this year! Congratulations!! (Again)
The Ott House Pub is a very welcoming place to relax and meet with friends. Anyone traveling in the area would not regret stopping in for a good meal and a friendly smile!
Assistant Chief Schelly K. Olson swapped shirts with Bobby Ott:
I was thrilled to add a Grand Fire patch to the wall at Ott House. I was attending the Wildland Urban Interface: Fire Adapted Communities course. I am now a contract instructor for NFA.

Bobby Ott and I traded T-shirts. He gave me a Yuengling beer shirt — from America's oldest family-owned brewery. I mailed him a T-shirt from my family's brewery — the second-oldest family-owned brewery in the U.S.! August Schell Brewing Company was founded by my great great great grandfather and is my namesake!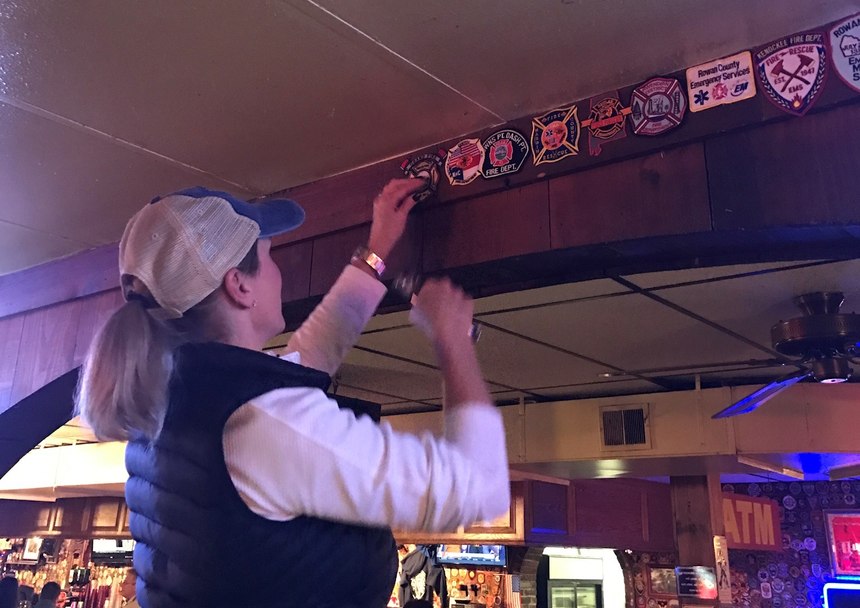 Janet New from Kentucky shared this story: 
I have been to the Ott house twice in my life, although it's been a popular conversation with my Dad and brother, who were both firefighters. The first time I was there was with my Dad and brother Dale. We were there supporting a family of a fallen firefighter at the memorial service. The second time, I was there supporting my brother Dale's wife, Jenny. We had just attended the Fallen Firefighters Memorial where Lt. Dale A. Brown and so many other heroes lost were being honored. Dale's last call was 6/21/19. We had such a good time at Otts. We met a lacrosse team from local college. They gave us their table and asked to hear stories of the heroes. It was so heartwarming to share stories with these kids, and they treated us with such kindness. Before the night ended, we were able to pin a tribute button of Dale on the wall behind the bar. Everybody that night was so much fun and kind. Dale would have loved to have been at Otts with Jenny – but it really felt like he was. The atmosphere, patrons and history at Otts does make you feel connected to those who were present that night and those who weren't. Otts is a special place near and dear to our hearts. The lacrosse team vowed to cheers to Dale during their frequent visits. Jenny and I will never forget the good memories made there. As Dale always said, 'Every day may not be good, but there is something good in every day.' Cheers Otts! Thank you. I look forward to visiting again.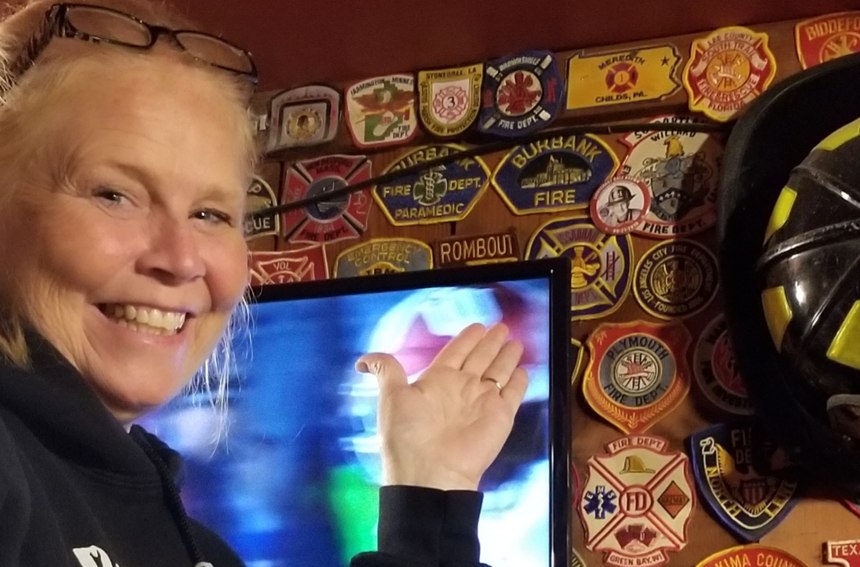 Mike from Raleigh, N.C., shared this story:
As a family escort for the National Fallen Firefighters memorial weekend, I can tell you the Ott House is packed with men and women from every corner of our country as they gather to pay their respects. 

You don't know fun until you hear more than a dozen pipe and drums playing on that tiny bandstand.

My first year escorting, I was taken to the Ott House by a multi-year veteran who took me under his wing for the entire weekend. (Thanks Tom) I couldn't buy myself a beer or anyone else for that matter as soon as everyone in there found out I was making my maiden voyage to the Ott House.

I continued to family escort for 8 more years, always looking for that lost soul who was in Emmitsburg for the first time so I could buy all their beer.

We loved the place so much, we named our puppy Emmit for the town and how nice everyone is there to the firefighting community.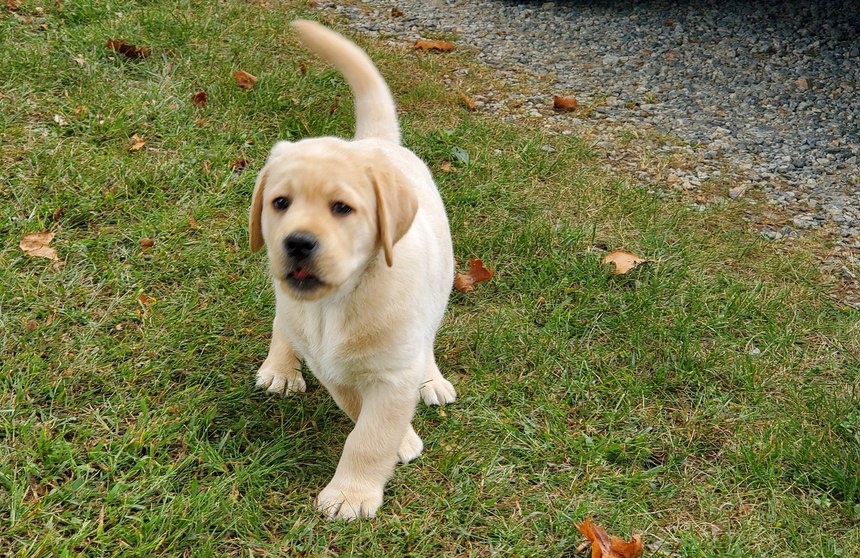 Social media reflections
Here are some of the many reflections about the Ott House Pub shared on FireRescue1's social media pages:
While the lessons learned in class are great, it's inside the Ott House and the Command Post where the real learning takes place! Thanks to Bobby and family and all who make this home away from home possible.
I was fortunate to attend NFA in September and even more fortunate to dine here and meet Bob the owner who gave us a ride back to campus because it was raining. Awesome place, great food and awesome owner!
The time spent learning from your peers at the Ott House is just as valuable as time spent in the classroom. It's a wonderful place to decompress, share a meal and forge relationships that in many cases last a lifetime.
Had a great time there in Oct. They had a Halloween Party and some of the firefighters even dressed for the party.
Many memorable trips to the Ott House, taking the "drunk bus" driven by Bobby Ott from the Command Post Pub. Most memorable has to be my birthday party with my Community Education Leadership class in May of 2000.
I have experienced this beautiful pub and wish to visit it again sometime.
Been there a few times, danced on the tables and got carried back to my room. Still have the pics. Great times. 
Great chicken wings! Very cool atmosphere. The fire station next door has some great guys with great conversation. Can't wait to be there again this coming fall.
I have always had good memories from the Ott House. When it's slow, Bobby would bring put some history items that he recently acquired. Always love how much history Bobby would share while there. The Gettysburg baseball and the bullets have always been my favorite.

This place is amazing. I can't wait to go back. It feels like every old firehouse.

I think I quaffed my first beer and ate my first bowl of Crab Soup there around 1972, so I've seen the place pretty much from its inception. And Bobby and Susan are true, 'salt of the earth' people who never forget a face and will always welcome you back. If you travel to the NFA or EMI, make sure and visit the Ott House.

Love that place!

I was attending a 6-day class I believe when Hurricane Sandy hit. They were going to lock down the campus at 2100 hours. If you were on campus you couldn't leave, and if you were off campus, you couldn't come in. We didn't want to get stuck in the dorms, so a few of us walked down to the Ott House and the owner said we could stay with him if we couldn't get back on campus. Great people, Great atmosphere!

Must-see place during the Memorial Weekend.
Been there. Great people and great food and drinks!
I don't think they have met anyone they didn't like or make feel welcome.
The best place to unwind after class each day!
Good to see Bobby Ott & the place getting some recognition. What a great atmosphere to spend some evening hours while at the NFA.
The Ott House is an institution in its own right!
I'm a volunteer at Station 6 connected to The Ott House. One of the things I love most about being a member there is getting to meet other firefighters from across the nation and talking shop and comparing how they do things where they're from. It truly shows no matter how we do it, we all have the same mission.
---

Read more:
My Ott House Pub memories
'We are always there for each other': Reflecting on the lifelong friendships formed at the NFA-adjacent pub