NFFF, FRCE board names new CEO
NFFF Managing Director Victor Stagnaro will lead the organization after Ron Siarnicki finishes his term
---
By Leila Merrill
FireRescue1/EMS1
EMMITSBURG, Md. — The National Fallen Firefighters Foundation and First Responder Center for Excellence board of directors chose NFFF Managing Director Victor Stagnaro to lead the organization after CEO Ron Siarnicki finishes his term in December. The announcement was issued Monday.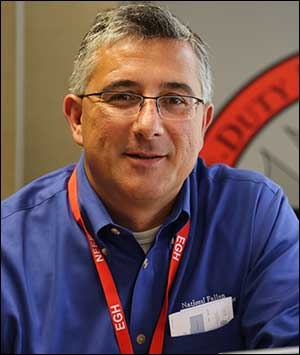 According to a news release from the NFFF and FRCE, Stagnaro joined the NFFF staff in 2010 and serves as the managing director overseeing the foundation's family and fire service programs, marketing and business management. Prior to that, he served for 25 years with the Prince George's County Fire/Emergency Medical Services Department and retired as the Deputy Fire Chief of Emergency Operations in early 2010. He has been involved with the foundation dating back to 1998, when he served as the incident commander for the National Fallen Firefighters Memorial Weekend for several years, and he served as a member of the initial New York Response Team on 9/11 for the Foundation.
"We are delighted to have Victor take the reins of our organization as he has demonstrated excellent leadership skills and commitment to the mission of both the NFFF and FRCE since joining our team. It was an exhaustive process, and he clearly exhibited the capabilities to take over this leadership role. We look forward to what he will do to move both organizations forward," said Troy Markel, chairman of the NFFF board of directors.
Chief Ernie Mitchell, chairman of the FRCE board of directors, has known Stagnaro for years.
"I have known Victor back to the days when he served with the Prince George's County Fire and EMS Department and his level of professionalism and commitment to excellence has been his mainstay in all that he has been involved with. I know he will take the FRCE to new levels as it continues to service our public safety partners," Mitchell said.