Poem: The Rock
The Rock symbolizes the dedication of the National Fire Academy – an important event in fire service history
---
The NFA was dedicated Oct. 8, 1979. Jimmy Carter was the president. The plaque features a quote from Public Law 93-498 1974 creating the Nation Fire Prevention and Control Administration, stating the purpose of the NFA. U.S. Senators and Representative along with state and local officials attended the ceremony that day, along with officials from all the fire service organization, plus the public. I was there.
Having a National Fire Academy had been a vision of fire services leadership for many years. This was an important event in fire service history. The Rock helps us remember. – Dr. Burton A. Clark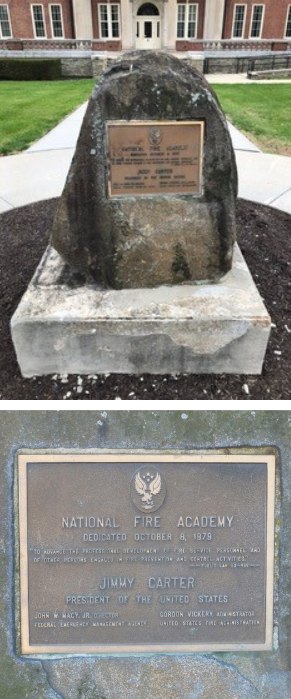 There are three monuments,
            On Campus.
I am the oldest,
            A rock with a plaque.
The youngsters have flags,
            Are tall and lit at night.
They are sculptured art,
            Beautiful to see.
One has an eternal flame,
            And lists of names.
More are added each year,
            There is room for many.
The new one is a statue,
            Of real firefighters.
It records the families changed,
            One day in September 2001.
They are bigger than me and striking,
            People visit them all the time.
Many take pictures, but walk away,
            With tears in their eyes.
There is no competition,
            With the emotion of grief.
I am about hope for a noble calling,
            That serves humanity.
So, the next time you come,
            Visit the memorials, pay respect.
But stop by the rock,
            And think about the future.
"To advance the professional development of the fire service
            And other persons engaged in fire prevention and control activities."