La. fire dept. to stop responding to calls in unincorporated areas
The Youngsville Fire Department announced that it will stop responding to most calls outside city limits, voicing concern that they will not be reimbursed
---
Ben Myers
The Advocate
YOUNGSVILLE, La. — The Youngsville Fire Department's announcement Thursday that it will stop responding to most calls outside city limits could be the first domino for unincorporated Lafayette Parish fire service.
With parish funding dwindling and unincorporated voters rejecting a property tax for fire protection this month, municipal fire chiefs say they are concerned their departments will not be reimbursed for calls outside their boundaries.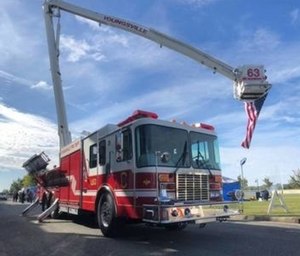 About 70,000 residents of unincorporated Lafayette Parish receive fire protection from a combination of municipal and volunteer departments, which divide the territory into districts. The departments work on contract with Lafayette Consolidated Government, which is contending with an ever-shrinking parish budget with virtually no reserves.
Municipal departments have been dealt 25 percent funding cuts in the fiscal year that started Nov. 1. Compounding that hit is the city-parish's new practice of doling out the money quarterly, after services have been delivered, said Youngsville Fire Chief Blair Rivette.
"The property millage did not pass, which means that guaranteed funding is null and void right now," Rivette said. "We don't even know if they are going to make all the quarterly payments."
Unincorporated voters on Dec. 8 narrowly rejected a 10-mill property tax that would have raised about $4 million annually for fire protection, despite dire warnings – mostly from Councilman Kevin Naquin -- that defeating it would most likely results in lower fire ratings and higher insurance premiums.
The Youngsville department will continue responding to structure fires in its unincorporated district, which covers areas west and south of the city. It will stop responding to medical incidents, vehicle wrecks, hazardous materials incidents and dumpster fires, among other types of incidents.
The contract with the city-parish is limited to structure fires, Rivette said, adding that the other services have been provided as "freebies."
Other departments are considering similar measures, said Scott Fire Chief Chad Sonnier, and a brewing contract dispute could result in additional cutbacks. Sonnier said he believes the funding cut invalidates the contract, and it's possible his department could decide cut out all unincorporated service, including structure calls.
"We don't have a validated contract, so why are we obligated to perform these services?" Sonnier said.
Robideaux and City-Parish Attorney Paul Escott did not immediately respond to a query on Thursday afternoon.
Rivette said he shares Sonnier's position on the contract, but that the Youngsville department won't stop responding to structure calls unless funding is cut entirely. But the new protocol announced Thursday still promises a major reduction in the department's presence outside city limits.
Unincorporated service comprised about 20 percent of that department's calls in 2017, and about half of the unincorporated calls were medical, Rivette said. Only about 15 percent of the unincorporated calls were "fire incidents," which could include non-structure fires.
Rivette said his department's annual budget is usually around $850,000, and the parish's allotment is only about 5 percent of that figure.
"The Youngsville Fire Department is fully funded by property millage in the city limits of Youngsville only," Rivette said. "The citizens of Youngsville are suffering because they pay for us to be here."
The municipal and volunteer departments servicing unincorporated districts occasionally support one another during major incidents. The Youngsville department's retreat from unincorporated areas won't immediately strain the nearby Milton Volunteer Fire Department, which relies on the municipal department primarily for support on structure fires, according to its chief, Damon Broussard.
But Milton does occasionally need help with major traffic wrecks or large grass fires, and until now the volunteer department has had no problem getting it from Youngsville, Broussard said.
"All we've got to do is get on the radio and call," Broussard said. "It's always been kind of a blessing to have all the departments with good relationships, to help each other wherever it is needed."
Copyright 2018 The Advocate
McClatchy-Tribune News Service