N.J. town disbands 1 of 3 fire departments to save money
Upper Deerfield Township officials expect to save $100K annually with the closing of Seabrook Volunteer Fire and Rescue
---
By Nyah Marshall
nj.com
BRIDGETON, N.J. — Residents, first responders and firefighters with their trucks turned out in dozens at Upper Deerfield Township's committee meeting last week, in hopes that their impassioned pleas would save the town's 94-year-old volunteer fire and rescue company.
After numerous comments from the public, committee members in the Cumberland County township unanimously voted for an ordinance closing the oldest fire station in town — Seabrook Volunteer Fire and Rescue.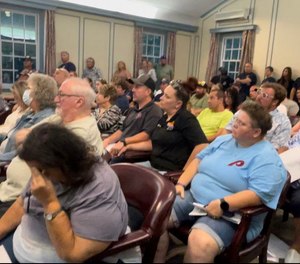 The ordinance passed on Aug. 17 will close Seabrook by the end of the year — which is also known as Company 32 in Upper Deerfield — and designates Companies 31 and 33 as the only volunteer fire companies in the township.
Committee members say that the decision was "tough" and made due to increasing tax rates and expenses related to replacing old equipment and updating facilities at each building.
The township provides $97,000 in operational support for each fire facility.
"A question that came up a couple of times is why now," said Mayor James Crilley. "Finances have been a driving issue here. I'm telling you people are hurting. I wish that you can sit by our tax collector and listen to some of the stories when people come in every time they have to pay taxes."
Township officials in Upper Deerfield — a rural municipality located in New Jersey's poorest county — also blamed a $500,000 cut in state aid 10 years ago for a gradual rise in local taxes.
"This township has done everything they can possibly do...But the time has come where we have to look at every area that can be cost effective" Crilley said.
Four years ago, a subcommittee that included input from chiefs of the three local volunteer fire companies, was formed to evaluate the costs associated with supporting the companies.
After analysis and discussions, the subcommittee created a report, recommending that consolidating the three volunteer stations into two and closing Company 32 would be most cost-effective.
Station 32 was selected due to factors such as its small building size compared to the other two companies and the snug dimensions of its fire truck doors, officials said during the committee meeting.
The plan should save the township about $100,000 annually, according to the report.
The funds saved will be factored into the municipal budget and used to update equipment for Companies 31 and 33, including the township's aging fire truck pumpers — one is 34 years old and the newest is 12 years old, officials said.
However, according to Jeremy Warburton, Company 32′s Deputy Chief who was at Thursday's committee meeting, claims that his station was outdated are incorrect.
"Just because our doors are tight, doesn't mean our building's obsolete," he said. "Its been updated, renovated, natural gas, LED lighting, energy efficiencies, all those things — some provided by the township but the vast majority of that has been paid for by the membership."
Warburton also said that the subcommittee's decision was reached without sufficient fact-checking about the building's status.
Upper Deerfield officials said the decision to consolidate Company 32 with 31 or 33 has been ongoing with input from all three chiefs for years and only when the plan was being finalized was there pushback.
"After five years of kicking the can down the road, the township committee with the help of all the chiefs of each company have come up with a consolidation plan," said committee member John Daddario, who has been liaison for the fire stations and EMS for 16 years. "Now that the plan is being voted on only then was there disapproval."
"Our only goal is to find balance between top notch fire services and be responsible to all township residents and their tax rate," he added.
Before the final committee vote, residents voiced worries about the adequacy of emergency response times due to the town's expanding population, highlighting the significance of Company 32′s proximity to the community's three schools and its role as the sole fire company within the town that also has rescue services.
Seabrook Fire and Rescue's building has also been used by the community for school events, weddings and fundraisers, residents said.
Also, the station experiences a substantial call volume, responding to approximately 250 calls annually, Deputy Chief Warburton said.
The chiefs of the other two fire companies addressed the public's safety concerns at the meeting.
"I'm not in agreeance with this either, nobody ever wants to see a fire company shut down," John Schaffer, Chief of Station 33, said.
"But as the chief I have a job to ensure that you guys are safe and covered. So I can guarantee that when you guys call 911, we are going to come in. You're going to have professional and safe protection like you had before."
©2023 Advance Local Media LLC.
Visit nj.com.
Distributed by Tribune Content Agency, LLC.
McClatchy-Tribune News Service