Iconic PIO offers advice for the evolving world of public information
Part 2 – Mark Brady shares timeless tips for PIOs and reflects on three critical fire incidents
---
Read the first half of this two-part interview between FireRescue1 Executive Editor Chief Marc Bashoor and Mark Brady, former public information officer for Prince George's County (Maryland) Fire/EMS Department.
Iconic Public Information Officer (PIO) Mark Brady recently stepped down from his position with the Prince George's County (Maryland) Fire/EMS Department (PGFD) – a position he held since 1999.
Through the decades, as the PIO role transitioned from a fax machine and press release-based job to one dominated by instantaneous news via social media, Brady mastered the art of information dissemination, creating a model for PIOs around the country.
I sat down recently with Brady to discuss his career and how the fire service media communications game has changed over the years. In Part 1, we discussed his evolution from volunteer to career firefighter, his background that made his uniquely qualified for the PIO position, and how much the role of the PIO has changed in the past few decades.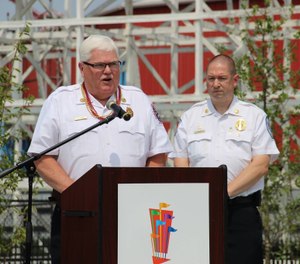 Here, Brady clarifies the PIO role, offers advice for current PIOs and reflects on some of the major moments in his fire service career.
New PIOs: Understand the role
Between his numerous experiences with PGFD and from teaching around the country for the FEMA public information program, Brady has culled five key points to help newer PIOs understand the role:
1. Social media is A tool, not THE tool. "There are many places that don't have the bandwidth or the infrastructure to receive the social media message, which means there's a population that is not getting your messages," Brady explained.
2. Family is huge. "I was very fortunate; I had a very understanding wife and kids," Brady said of his family, which knew that every time he left, it was likely he'd be gone for 2 or 3 hours. "Sure, I missed a lot of dinners, parties and family events, but they understood and were very good about it. I think behind every successful person in public safety, there is an understanding family behind and supporting."
3. You can't always broadcast EVERYTHING. You typically learn a large number of facts in a short time that you will have to distill what's releasable and what's not to tell the public and the media.
4. Be media-friendly. You can pretty much use social media to, "tell your story on our own terms to thousands of people, but you still want the media, which is able to tell millions," Brady reminded.
5. The PIO is one of the loneliest jobs in the fire department. "Pete Piringer [chief spokesperson for Montgomery County (Maryland) Fire & Rescue Service] told me this when I came in, and while I didn't understand, you'll learn over time it is very lonely – I did."
Know your role – with the chief and within the department
Another important lesson for any PIO is to know their role in the organization.
In many cases, the PIO is considered the face and voice of the department. This can have positive and negative effects for chiefs, departments and the politics that surround them all. Personalities, management styles, and individual personas can often conflict. As such, it is important to understand the chief is the leader, and the PIO is an extension of the chief, and collectively an extension of the, in this case, county government.
In any department, it's important to understand there has to be ONE chief who ultimately makes the decisions. Brady reflected that, "Sometimes people want a seat at the table, but they don't understand there's one fire chief and that one fire chief is responsible to make decisions and implement, and that fire chief is appointed by the county executive (or whomever)."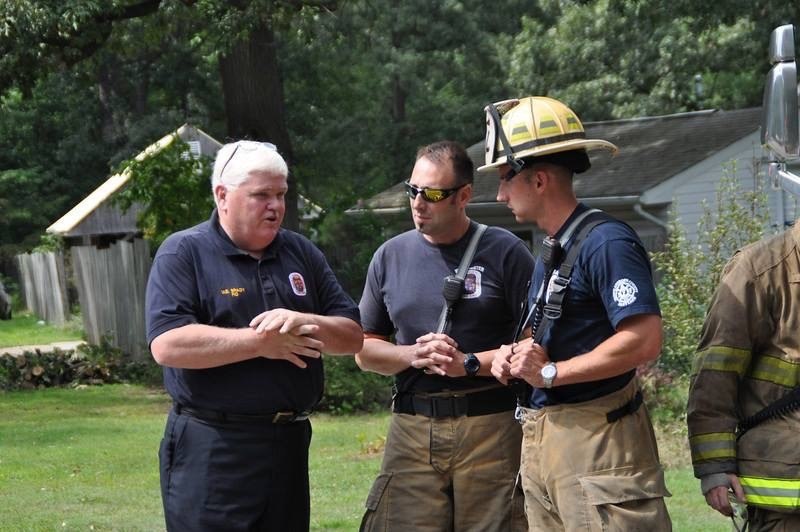 Brady further explained that PIOs need to be mindful of the fact that the chief is going to be sensitive to their bosses' (usually politicians') needs. "The PIO needs to maintain the understanding/perspective of where the chief is coming from, and that perspective might be from that elected official," he said, adding that PIOs also have to be sensitive to the elected officials' concerns, especially those who control purse strings.
Considering the importance of the chief/PIO relationship, Brady offers some points of advice:
Fire chiefs and PIOs need to be joined at the hip, "What the chief knows, the PIO should know." The chief needs to respect that the PIO isn't always, "drinking the same Kool-Aid as the chief and deputies" – a difference in perspective that can be critical.
There must be trust between the chief and the PIO. The chief needs to tell the PIO what's releasable and what's not, and the PIO needs to respect that. Together, this extends the existential public trust.
Chiefs need to respect the need for public information in general.
Chiefs need to be good people and good listeners.
Timeless tips for PIOs
Brady represents somewhat of a dying breed of PIO – one who spends 30 years in one department. He has seen the evolution of public information – and it will only continue to evolve. As such, Brady shares seven points for PIOs to remember throughout their careers:
1. Stay neutral. Especially when dealing with union and volunteer issues, don't take one side or the other. Keep the centric message.
2. Be engaged and ask questions. We use 'The Washington Post effect': How's this going to look on the front page of The Washington Post?" When working with the chief, Brady suggests playing devil's advocate-style role play with the chief: "What about this? How's this going to work? Answer this question for me. How would you answer that question in regards to this? Perhaps it gives the chief a different perspective when the PIO is saying this is the way it's going to look."
3. Prepare the chief. It's as much the PIO's role to prepare the chief for the media as it is important for the fire chief to step away from the tactical side of an incident and talk about what the community wants and needs to know.
4. Don't forget about the personal touch. Nothing replaces the ability to pick up the phone and talk to an assignment editor, producer or reporter.
5. Keep up with technology. It seems to grow by leaps and bounds daily. "Twitter is the PIO's main base right now, but who knows in the future," Brady said. "And if you haven't mastered video capability, video will be critical to your success."
6. Know your business. "With the advent of social media and branding, we've seen an influx of PIOs into organizations that never had a PIO," Brady said. "They call them external affairs, digital content managers, public affairs officers (PAOs). We've seen some people coming in who have great social media skills but who have no knowledge of the fire department or agency they're coming into. In the fire and EMS industry, you MUST have that knowledge of fire and EMS business to be a successful PIO."
7. Train! Just like firefighters and paramedics, PIOs should always continue to take training. There's plenty of local, state and federal classes, many at little or no cost. And you get to meet other PIOs and learn a lot from each other.
How to avoid the social media firestorm
Social media, smartphones and cameras have changed the way we need to operate as professionals in portraying our image. For ALL members of a department, from the chief on down, paid or volunteer, the PIO's role becomes much like that of a "reputation manager." Public image plays as much a role in the public's trust as truth does.
Brady provides these thoughts from a public image perspective:
Celebrating and joking around on scene. "We go in put a fire out, a couple crews and hoselines … the first thing they do when they come out is slap high fives," Brady commented. "You get it, I get it. They've done their job and they've done it good. But the poor family sitting out there on the curb doesn't understand why these firefighters are coming out of their burned-up house high-fiving each other and patting each other on the back."
Further, joking around on scene can be considered poor taste. This may be how we deal with trauma and fireground action, but consider how the homeowner would think of jovial antics.
When it comes to photos, we've all seen the group pictures and scene photos, and very recently saw a group on-scene photo that has created an otherwise unnecessary firestorm for a large fire department. Official reporting and after-the-fact documentation for training or investigations are probably the only justification for taking scene pictures. Just put the phone/camera away.
There's ALWAYS a camera around. This is not a conspiracy theory, just the reality of the world we live in – somebody is always watching. Be a professional and remember that you're on duty 24/7.
Remember the "Washington Post effect." Ask yourself, "How's this going to look on the 6 o'clock news?"
Looking back at milestone moments
While there are thousands of incidents that stand out to Brady, he identified three that rose to his conscience of memorable incidents:
1. Curtis Drive explosion (1999). "Someone was hoarding oxygen tanks in the basement apartment that was on fire," Brady recalled. "We were the luckiest fire department on the face of the earth that when the explosion happened, no one was seriously injured or killed."
2. County Courthouse fire (2004). "I think of this one because it was a landmark place – it WAS Prince George's County," Brady described. "We had the county executive, the County Council, all the elected officials, everybody in county government was standing there watching us do our job trying to put this fire out. There was a lot of explaining going on of why we're doing and not doing certain things and why the fire wasn't going out right away."
3. The Berwyn House Road fire (2017). "We had a significant commitment of resources in this lightweight construction high-rise apartment building, which is ludicrous," Brady recalled. "… a lot of frustration of not being able to get ahead of this."
Moving forward and giving thanks
After nearly 41 years with the department, the demands are growing for Brady's PIO talents and historical perspective. "I've met a lot of people and a lot of people are listening to the message," he said.
Brady has retired from PGFD but will continue teaching for FEMA and will continue to be available for advice to whoever calls.
Brady gives a lot of credit for his success to three families: his personal family, his fire department family and his FEMA family, especially to FEMA program manager Phil Politano, who tragically passed away from the effects of cancer on Jan. 9. 2020. In this interview, prior to Politano's death, Brady reflected on Politano's tremendous impact on his professional work and teaching methods: "We base everything we teach on Phil. He's done a tremendous job and is passionate about the PIO – he literally wrote the book on PIO."
In true PIO fashion, in the pouring rain on a Sunday, two days before the end of his tenure serving as PIO for PGFD, Brady stood at a throng of microphones with the new acting chief, Tiffany Green, explaining the details of the single-engine plane flying into a house, shocking a Lanham neighborhood.
It never ends.