Baltimore fire chief adjusts recruiting practices amidst staffing shortages
Chief Niles Ford said the city will recruit firefighter-EMTs, eliminating separate recruitment tracks
---
By Baltimore Sun staff
The Baltimore Sun
BALTIMORE — Baltimore's fire chief said he is planning to eliminate separate recruitment tracks for firefighters and emergency medics, combining the two when the department opens a new recruitment period next year.
Chief Niles Ford outlined the plan Thursday to a City Council committee that is scrutinizing his recruiting efforts as the city struggles to ensure it has enough staff to meet the increasing demand for emergency medical treatment.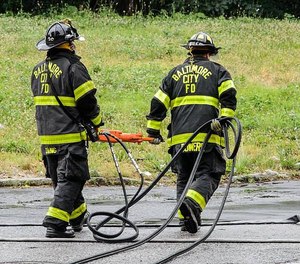 "The goal is to create one position," Ford said.
The fire department relies heavily on overtime to meet staffing needs.
This month, it began testing a policy that means fewer units respond to some fire calls, with a goal of freeing resources for medical calls. The firefighters' union has objected to the change, saying that it already has put one civilian's life in danger. Ford did not address the experiment at Thursday's hearing, but previously described the change as "not earth-shattering."
Democratic Councilwoman Mary Pat Clarke, a member of the council's labor committee, said she supported the recruitment plan, but it will need careful management to ensure the department balances its responsibilities to fight fires and provide medical care.
"With the department's efforts right now to increase the emphasis on medical calls, does this just institutionalize that at the cost of suppression?" she said.
Blair Adams, Ford's spokeswoman, said after the hearing that fire department personnel still would be assigned to dedicated fire suppression or medical response units but that the idea is for recruits to be "interchangeable."
"With the department's efforts right now to increase the emphasis on medical calls, does this just institutionalize that at the cost of suppression?" said Mary Pat Clarke, Baltimore City Council.
Baltimore's firefighters have been required to maintain certification as EMTs since the 1970s, but Ford told the committee his goal is for all recruits to receive the same training to respond to fires and medical emergencies.
In recent years, the fire department has increased the number of ambulances it fields in order to respond to rising numbers of medical calls — a demand driven in part by the opioid overdose epidemic.
The firefighters' union, the International Association of Fire Fighters Local 734, has warned previously that assigning firefighters to medical duties has lengthened response times for fire calls. After attending Thursday's hearing, union president Richard "Dickie" Altieri referred questions about the recruitment plan to the department. He said any changes would not subject to collective bargaining.
The fire department does not continually recruit firefighters. Instead, every few years it accepts applications and draws up a list of qualified candidates. That last happened in 2016. Ford said the effort to create the combined recruitment system delayed a new round of hiring until next year. Applications for dedicated emergency medical positions have been accepted on a more frequent basis.
Council members pressed Ford on what the department can do to ensure more women and more city residents are hired.
In recent years, far more women have been hired to dedicated medic roles, according to data the fire department shared with the committee.
In the 2016 round for firefighters, 6,500 candidates were invited to take a written exam, ultimately leading to 112 candidates graduating from the academy. Of those, 53 were city residents and 17 were women.
Since 2015, 182 candidates have graduated from EMT/paramedic training, including 48 city residents and 61 women.
Ford said he previously made a number of changes to ensure women were not disadvantaged in the hiring process, but conceded that they were not as effective as he hoped.
Ford said he thinks many prospective candidates, particularly women, have the wrong impression about what it takes to work for the fire department.
"This is a non-gendered position. Period," he said.
Clarke said the combined recruitment idea ultimately could mean more women, who might have decided against applying for a job working solely as a firefighter, will enter the department and be assigned to fire suppression units.
"It's quite pioneering," she said.
The number of emergency medical calls the department responds to has grown dramatically in recent years. In the 2015 budget year, the department responded to about 162,000 incidents, compared with 189,000 in 2018, according to disclosures in annual budget documents.
In 2018, the department had a goal that emergency medical crews would respond within 9 minutes 90% of the time. However, it achieved that response only 46% of the time.
While the Baltimore Police Department's problems with runaway overtime spending tied to insufficient staffing have received more attention, the fire department has faced similar problems. By March, it had spent its $11.2 million overtime budget for the fiscal year that ended June 30 and it was relying on overtime to cover almost a third of shifts.
On Sunday, the department began its experiment of sending fewer firefighters, engines, trucks and battalion chiefs to initial calls.
The firefighters' union has issued warnings about the staffing shortages on social media. After the new policy test began, the union said it endangered a woman's life in a fire.
"This new policy is a dangerous practice and needs to stop now," Altieri said in a statement at the time.
Adams, the fire department spokeswoman, said Thursday there was no end date for the trial. Altieri said he expected it would conclude after three or four months.
———
©2019 The Baltimore Sun
McClatchy-Tribune News Service