Pa. area has third-fewest occupational firefighters of metro regions in the country
Pennsylvania has more fire companies that any other state, but they are comprised primarily of volunteers
---
By Daniel Walmer
The Sentinel, Carlisle, Pa.
CARLISLE, Pa. — The Harrisburg-Carlisle area has the third-fewest occupational firefighters per capita of any metro region in the United States, according to a new ranking based on government data.
The ranking developed by security information website ASecureLife compared 2018 census population data and federal employment statistics. It found that there are only 120 occupational firefighters in the region, or one out of every 4,788 people.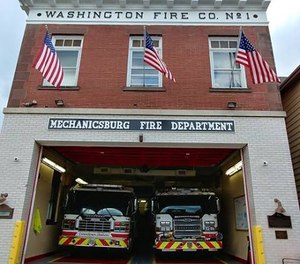 That figure does not include volunteers, which populate the bulk of Pennsylvania's fire departments. Pennsylvania has nearly 1,800 fire companies, more than any other state, according to the U.S. Fire Administration. They tend to be smaller than consolidated firefighting forces elsewhere and therefore often lack the resources to hire paid firefighters.
Frederick County, Maryland, by contrast, has 450 paid firefighters at the county level that work with the volunteers at local, independent fire companies.
Pennsylvania dominated the top spots on the ASecureLife list. The Allentown-Bethlehem-Easton, Lebanon, Pittsburgh and Reading metro areas also finished in the top 10 nationwide for least occupational firefighters per capita.
The lack of paid firefighters in Pennsylvania makes the state especially vulnerable to the effects of declining volunteerism. Pennsylvania's cadre of volunteer firefighters has declined by 80 percent over the past 40 years.
The increased difficulty in obtaining volunteers has contributed to consolidation among fire departments, a trend seen recently in Cumberland County communities like Mechanicsburg and Shippensburg.
———
©2019 The Sentinel (Carlisle, Pa.)
McClatchy-Tribune News Service