Pa. volunteer fire companies use multiple strategies to increase staffing
SAFER grants, youth outreach and marketing are leveraged to help FDs answer calls
---
By Jeff Himler
Tribune-Review
GREENSBURG, Pa. — Volunteer fire departments are nearing a breaking point.
About 37,000 firefighters suit up every day in Pennsylvania, according to the Office of the State Fire Commissioner. That's down tenfold from the 1970s, when there were about 300,000 firefighters.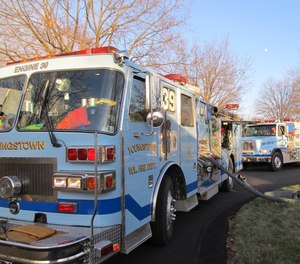 "That's close to a crisis in my mind," said New Kensington fire Chief Ed Saliba Jr.
As generations of veteran firefighters get older, local volunteer companies are turning to various avenues to replenish their ranks. That includes recruitment outreach programs, grant-supported incentives for members and allowing junior firefighters ages 14 to 17 to come aboard for training and limited duties.
In short, they're looking for folks like Parker Queer.
Queer, 14, of Unity is one of 22 volunteers younger than 18 who signed on with the Youngstown Whitney department's junior firefighter program over the past five years. A year ago, he followed the lead of a friend and fellow Boy Scout who had joined.
"I do plan on sticking with it" as an adult, he said.
Monroeville native Thomas Cook, who recently took on the role of state fire commissioner, acknowledged that lack of adequate staffing is a major issue for fire services.
He noted some areas of the state have experienced success in attracting and retaining firefighters.
"One of the major goals of our recruitment and retention program is to identify the secrets to their success and figure out how to replicate that formula in the areas of the state that are having problems attracting talent," Cook recently told the Tribune-Review.
Extracurricular school activities, sports, parenting and job responsibilities can place increasing demands on time and energy, leaving less time for volunteering.
"We answer approximately 800 calls per year," Saliba said. "We have to start out with over 200 hours of training, and constant fundraising takes a lot of time away from training.
"If you try to push both, it's very hard, especially if you take a guy who is 27 years old, just got married and has a little baby and both parents work. It's a time thing."
Scottdale fire Chief Dave Wendell acknowledged that persuading someone to become a volunteer firefighter can be a tough sell, given the time commitment and hazards involved.
"If you're not born into this," he said, "it can be hard to get somebody who has a full-time job and can't really give all that time to training and doing a very dangerous job for free."
Like son, like father
Queer is an example of a success story.
He won't be allowed to enter a burning building until he completes related training and turns 18, but he has practiced for car crash scenes he eventually may encounter and has learned how to operate the "jaws of life" tool used to free passengers trapped in wreckage.
"They had some old doors we were chopping up with it," he said.
He had some company. In a spin on the norm, son recruited father to join the fire department. Usually, it's the reverse, children following their elder relatives — whether a father, mother, sibling or other kin — into service.
Scott Queer, 51, joined in January.
Scott Queer already was accompanying his son to the fire station in Youngstown.
"Until he gets his driver's license, I have to drive him over," he said. "He was hounding me to join up."
Scott Queer agreed when he discovered he could put his skills as a commercial truck driver to use steering fire engines to scenes.
"It was something nice for my son to come to me and ask if I'd join," he said. "It's one of the best choices I made to do something with him.
"The most rewarding thing is trying to help the community out."
Father and son have responded to a few calls together.
"One of them was a vehicle accident where we set up a landing zone for the LifeFlight helicopter," Scott Queer said.
The need to recruit new members is never far from the mind of Barry Banker, who, as Youngstown Whitney fire chief, oversees about 50 members.
"We're always working on recruitment these days," he said. "When I joined, there was a waiting list."
All but seven of the 22 Youngstown Volunteer Fire Department junior recruits from the past five years have remained involved with that department or a neighboring station.
Sister act
New Kensington started accepting junior firefighters seven years ago and has since added about that same number to its roster, Saliba said.
Included in that number are Addyson Shirey, 14, and her sister, Elizabeth, 17. They are daughters of John Shirey, a third-generation New Kensington firefighter and deputy assistant chief with the department's Company No. 1.
The sisters are assigned tasks such as handing tools to active firefighters and helping to switch out air cylinders when volunteers emerge from a smoke-filled building. They also are learning about different hose connections and how to operate a hydrant.
"There are a lot of precautions you have to take," Elizabeth said. "You need two people on a hose at all times."
She is studying cosmetology at school and would like to continue her training so she can become a senior firefighter after she turns 18.
"I want to help the people around our city," she said.
"We would like to see more youth get involved in the department," Saliba said. "You just don't have those big numbers knocking on the door wanting to become a volunteer."
He noted firefighters who joined the department in the 1970s are now in their 60s — including 11 who will be honored for 50 years of service at the department's annual banquet in November.
"What has me concerned is 30, 40, 50 years from now, I don't think those numbers are going to be that way," he said, suggesting many other volunteer departments across the state are in a similar situation.
Early outreach
The Greensburg Volunteer Fire Department has had some success counteracting the staffing downturn by engaging preteens in observing fire department operations. The department also makes initial connections with even younger kids by offering presentations on fire safety to elementary students.
The department has 18 junior firefighters ages 14 to 17, plus five who are 12 or 13, said President Rick Steele.
The older teens take part in weekly training, and junior members 14 to 17 are permitted to ride on trucks to emergency calls. The five younger kids "are not classified as firefighters yet," Steele said. "They come and train with us and hang out outside the firehall, but they're not allowed to ride to a fire call."
The junior firefighter program "has had quite a successful run over the past couple of years," he said.
That program has been in place for decades, but, beginning in 2005, it was dormant for several years, with no new young participants joining.
Department leaders worked to reinvigorate the program in 2017, Steele said.
That has included conducting assemblies at Greensburg Salem Middle School to help spur interest.
The Greensburg department's 300 members include about 140 who actively respond to fire calls.
Financial help
Local departments are taking advantage of a federal grant program through the Federal Emergency Management Agency to help retain current members, train new ones and even offer some incentives.
The Staffing for Adequate Fire and Emergency Response (SAFER) program, provides funding directly to departments to assist with recruiting and maintaining volunteers.
Sixty volunteer fire departments in Westmoreland County participated in a $4.3 million SAFER grant that was overseen in 2017 by the Hempfield Township Bureau of Fire. That grant is credited with boosting the collective membership of the participating departments by about 470 volunteers, exceeding the goal of adding 300.
According to Assistant Chief Lou Battistella, the grant provided the Greensburg department with reimbursements totaling about $129,000 for eligible expenses. Those expenses included physicals for 19 new department recruits, protective equipment and training for all new recruits and continued training for existing members.
Also, firefighters who responded to at least 15% of the department's emergency calls could claim a stipend of $5 per call, up to $550 per firefighter.
"We did do quite a bit of recruitment," Battistella said, "and we got considerable training and new equipment for our recruits."
Among the new Greensburg recruits was Roman Carloni, 41. General manager of the aerobics center at the City of Greensburg's Lynch Field, he joined the fire department in November 2019 after his family moved to Greensburg.
The grant "was extremely beneficial," Carloni said. "I got new bunker gear: boots, pants, a jacket and helmet."
Normally, it would cost about $3,000 to get outfitted with new gear, a cost that typically falls on departments.
"I had hand-me-downs initially until the new gear arrived," Carloni said. "It's nice when you get your own stuff."
Youngstown Whitney Volunteer Fire Department also was among the departments taking part in the SAFER grant. Banker noted some members were able to take advantage of the call stipend and of a college tuition reimbursement of up to $500 available to firefighters who met training and service commitment conditions.
But, he said, the grant "didn't create a marked turnaround in the number of people beating down our door to be firefighters."
In Scottdale, eight junior firefighters have joined over the past year and a half, supplementing the department's roughly 30 active firefighters. According to Wendell, the chief in Scottdale, many of the new recruits were inspired to sign up after seeing friends and neighbors become involved. One of them has turned 18 and has graduated to full status as a firefighter.
"We got a few members out of that (SAFER) grant," Wendell said. "We have had some people transfer into the borough from other departments, but we also picked up a few who had zero training."
Wendell said some members of his department have found a viable alternative to strictly volunteer fire service, highlighting an opportunity to take additional training to become a paid emergency medical technician with an ambulance crew.
When they're not standing by for volunteer calls in their hometown, some members commute as far away as Maryland or Virginia to hold down paid firefighter and EMT positions, Wendell said.
"It's a win-win situation," he said. "There are a lot more of those jobs out there."
With its own $405,000 SAFER grant, the Southwest Greensburg Volunteer Fire Department has attracted 12 new firefighters, adding to 31 active firefighters on hand a year ago.
Its strategy included establishing a slogan, "Train With Pr1de. Protect With Honor," and a website, SWGreensburgFirefighter.org, for its recruitment effort, which is slated to continue through 2026.
"Our goal has been to drive our numbers up and bring in people who can help and lower our average age," said fire Chief Bill Wright Jr. "The older members can't volunteer forever, and we need the influx of younger people to serve the community."
One of the new Southwest Greensburg members is Richard "Dicky" Graham, 21, who joined in February. He now has three years of experience as a firefighter, having previously served with White Oak Borough Volunteer Fire Company No. 1.
"There is always a risk involved with volunteer firefighting, but you have a great family and mentors who are there to help you out," he said.
The Hempfield Fire Bureau applied for a solo $1.4 million SAFER grant, and the Greensburg Volunteer Fire Department applied for a $1.9 million multiple-participant grant on behalf of 37 local departments. Those applications are pending with FEMA.
Allegheny County
West Deer Township Volunteer Fire Company No. 3 and Unity Volunteer Fire Department in Plum also have taken advantage of SAFER grants. West Deer secured a $95,000 grant in August 2020 and Unity an $83,000 grant in September 2021.
Unity fire Chief P.J. Mudar said his department recently added four new firefighters.
"We could always use more," he said. "Many hands make light work."
He said the grant funds, which can be drawn upon for five years, are providing new gear and annual health screenings for new members. The company is revamping its website and social media platforms to improve communications with the community it serves, he said, while adding electronic message boards at the station to assist internal communications.
"We've brought in nine firefighters in various stages of training," said West Deer No. 3 fire Chief Josh Wiegand. "It has helped significantly."
The goal cited in the grant application was to add 10 members, he said, noting two of the additions are junior firefighters.
The firefighters are being offered call stipends.
"We're also providing training incentives," Wiegand said, "to entice the guys to get their training done sooner rather than later."
(c)2023 Tribune-Review (Greensburg, Pa.)
Visit Tribune-Review (Greensburg, Pa.) at www.triblive.com
Distributed by Tribune Content Agency, LLC.
McClatchy-Tribune News Service