What Firefighters Want 2023 survey seeks firefighters' input for industry report
This year's theme focuses on the perfect storm of staffing challenges, plus how firefighters are managing stressors
---
By FireRescue1 Staff
FRISCO, Texas — The 2023 What Firefighters Want industry survey launched Monday, focusing on a "perfect storm" of staffing challenges facing the fire service, plus how firefighters are managing stressors creating by these staffing issues as well as increased work assignments.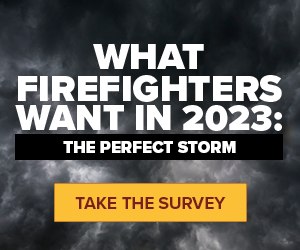 The survey will be used to inform FireRescue1's state-of-the-industry survey, which will be published in August 2023 and feature expert analysis from fire service leaders.
"This year's survey digs into the convergence of several issues impacting the fire service – staffing struggles, increased scope of duties, to name a few – and whether firefighters are reaching a breaking point," explained Janelle Foskett, FireRescue1 editor-in-chief. "I am hopeful the survey will provide powerful insight into what members are facing, plus what they want and need from their departments to manage not only their workload but also their mental health."
Survey efforts are supported by the International Public Safety Data Institute (IPSDI), which helped design the survey, and the International Association of Fire Chiefs (IAFC), which provided survey guidance and is helping promote the survey. Further, IPSDI will provide expert analysis of the survey results and help direct focus for the August report.