W.Va. FD could be down 20 FFs by end of summer, chief says
The Charleston Fire Department, already down 15 firefighters since last year, is expecting more retirements amidst hiring processes slowed by the pandemic
---
Joe Severino
The Charleston Gazette, W.Va.
CHARLESTON, W.Va. — The Charleston Fire Department could be down as many as 20 firefighters by the end of the summer, newly appointed Chief Jeffrey Jackson said in a phone interview.
A number of city firefighters have retired in the last year, and a few more are expected to follow, said Jackson, a 25-year veteran of the department.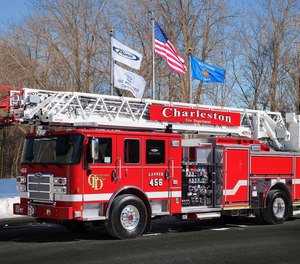 "The biggest issue right now is we had a large number of people retire this past year ... we're already down 15 people," he said. "We have several people planning on retiring between now and July, so I could see us getting down 20 easily by July."
The coronavirus pandemic is the barrier to hiring new people, Jackson said. The department began the hiring process in March for 12 new firefighters, but the International Association of Firefighters has advised departments nationwide to preserve existing resources.
Physical training exercises wastes vital personal protection equipment, he said.
The department also wanted to hire another group after July to fill the remaining vacancies. Jackson said the department is funded for 169 firefighters at full-strength.
"I'm guessing we're going to have to hire a very large group sometime after July, or whenever we're allowed to do it again," he said.
The department has weathered the beginning stage of the pandemic, Jackson said. Firefighters have stayed healthy despite being short on personal protection equipment in the first days of the emergency period.
"Our local people that we normally buy off of, they were sold out immediately," he said.
Personal protection equipment has been easier to find in the last few weeks thanks to coordination with local governments, Jackson said.
"It's been a challenge but we've done a good job. The city administration's found some protective equipment for us, plus we found some on our own, we got some from the county, so we're in pretty good shape right now," he said.
Jackson, 50, has served as interim chief for the department since former chief Robert Sutler retired in October 2019. Jackson also worked as interim chief after former chief Scott Shaffer, Sutler's predecessor, retired in 2018.
Jackson's held every rank in the department since he was hired in October 1994, he said. Serving as chief is a different ballgame than even the previous administration positions he's held.
"It's more of a logistics kind of thing, and it's moral support for the people that's on the front lines; a lot more paperwork," he said.
Jackson also mentioned the venture into the political realm that comes with the chief's position, and adjusting to it seven months ago was tough to navigate initially.
"It was challenging at first but I think we have a great city administration right now. They are really working hard to kind of mend the fences a little bit; the old administration that left, the fire department didn't have a great working relationship with them," Jackson said.
One goal Jackson has for the department under his direction will be building an all-in-one training facility in the city. Currently, city firefighters take classes in Charleston, but do live fire training in Institute and use an old runway at Yeager Airport to conduct emergency operations training.
The hope is for a three or four-story building for live fire training and a nearby road course for vehicle emergency operations training, Jackson said. The vision started with Sutler, and Jackson said he wants to see it through.
———
©2020 The Charleston Gazette (Charleston, W.Va.)
McClatchy-Tribune News Service