FIRST Center: Newest fellowship program to focus on preventing workplace violence
The fire-focused research enterprise selected six 'Fire Fellows' to develop a curriculum to tackle public safety violence
---
The Center for Firefighter Injury Research and Safety Trends (FIRST) announced on Monday the sixth-annual Fire service Injury Research, Epidemiology, and Evaluation (FIRE) Fellowship and fellowship recipients, known as "FIRE Fellows." Through the program, the Fire Fellows will be developing a curriculum for firefighters, paramedics and EMTs to provide skills and knowledge for the prevention of workplace violence (WPV).
The FIRST Center is a research, education, and practice enterprise organized to support the U.S. fire and rescue service through objective data collection and analysis. The Fire Fellows include undergraduate, graduate and doctoral students, as well as alumni, from the Dornsife School of Public Health at Drexel University in Philadelphia.
The 2021 FIRE Fellowship recipients are (from right to left, top to bottom):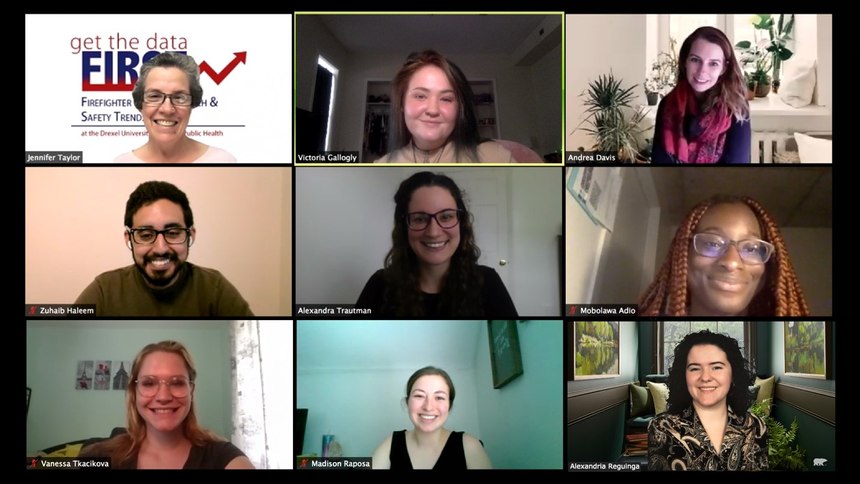 Victoria Gallogly, MPH(c) 2022, Department of Environmental & Occupational Health
Zuhaib Haleem, EMT, MPH 2021, Department of Health Management & Policy
Mobolawa Adio, BS(c) 2024, Dornsife School of Public Health
Vanessa Tkacikova, EMT, BS(c) 2023, College of Nursing & Health Professions
Madison Raposa, PhD(c) 2025, Department of Environmental & Occupational Health
Alexandra Reguinga, MPH 2021, Department of Environmental & Occupational Health
The Fellows will be mentored by: FIRST Center Director Jennifer Taylor, PhD, MPH, CPPS; Senior Project Manager Andrea Davis, MPH (2012), CPH; Education & Training Coordinator Alexandra (Trautman) Fisher, MPH (2020); and FIRE Fellowship alumni.
This year's 10-week paid summer Fellowship is funded through a contract from the International Association of Fire Fighters (IAFF).
The FIRE Fellows will use previous FIRST Center scholarship, results from the SAVER project, and the IAFF Fire Ground Survival Program as the basis for developing the WPV curriculum.
Dr. Taylor explained the reasoning for the curriculum theme: "Workplace violence is turning out to be more of a persistent hazard in the fire and rescue service than we previously thought. Fire-based EMS responders have been talking about violence in their trade journals since the 1970s. It was about 20 years later when scientists caught on. Therefore, we can no longer wait to develop solutions to address violence from patients and bystanders - or even coworkers. The number of EMS calls continues to rise dramatically - without additional staffing, ambulances or mental health support. The IAFF's fire ground survival program provides an evidence-based framework on which to build this new violence prevention curriculum."
For more information, contact Victoria Gallogly, outreach and communications coordinator at vhg25@drexel.edu.