Poll analysis: What is your department's policy for personal activities while on duty?
A recent news story out of Portland, Ore., sparked a debate about what activities should and should not be allowed while on shift at the station
---
In January, an anonymous fraud tip was reported to Portland, Oregon, city officials, alerting them to the fact that city firefighters were washing their personal vehicles at the fire station while on duty. The tip was investigated by the city's auditor, who found that firefighters had violated rules aimed at preventing personal use of city resources.
Following the complaint, while in discussions with the city auditor, Portland Fire & Rescue officials said they were developing a new policy that explicity covers how city resources are to be used by personnel on duty. 
In an analysis of the incident from columnist Linda Willing, she said her first reaction was similar to many comments she had seen on the story: "Seriously? This is the biggest problem they have in Portland? How much did the city of Portland spend on this 'fraud investigation'?"
In a recent poll, we asked FireRescue1 readers to share how their department handles members conducting personal activities while on duty – is there a formal policy, or is it on the honor system?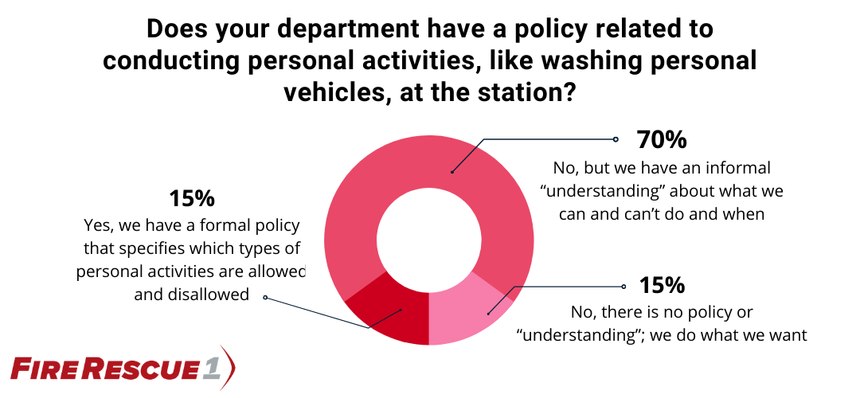 A majority of respondents, 70%, said their department has an "understanding" of what is allowed during a shift, while 15% said their department had an official policy that lists what is acceptable while on duty. Another 15% of respondents said they have free reign to conduct personal business while on shift. 
Comments on the original article, Willing's analysis and the poll call were varied, underscoring how widely one department's policy can differ from others in neighboring towns or states. Let us know your thoughts in the comments below. 
Personal activites on duty: What readers had to say
"Yes, we are not allowed to wash personal vehicles at the station because we are not on a meter, and it is in bad taste to show the public that you are wasting water." — Benjamin W. Riedel
"We were allowed to wash our personal vehicles at the station for many years. One person with an axe to grind complained to the city council and they said we couldn't do it anymore." — Nick John
"Some commercial zones prohibit vehicle washing without some proper protection of the storm drain system." — David Karoly
"Always allowed to work on your POV at the volunteer firehouse. My paid, full-time EMS job requires we wash an ambulance first before washing POV." — Tim Young
"As a mostly volunteer department, we encourage personal car washing. If someone stops by the station to wash their car and tones drop, they are more likely to go on the call, than if they were at home." — Scott Williams
"As volunteers, we pay for our own gas, vehicle maintenance and other miscellaneous things, so why is it a big deal if we wash our vehicle at the station. The average person outside the department doesn't seem to understand just how much out of pocket we spend to help protect our community." — Joe Zeidler
"In long-gone years (decades), we were allowed to work on our cars, as long as we supplied the materials, etc. We could also wash our vehicles (out of the view of the public). That went away at some point. Probably because of abuses by some individuals. Cleaning of boats, etc." — Gerry Maitland
"We allow vehicle washing as long as you aren't washing someone's, charging money to do it and pocket it." — Michael Gordy Coleman
"As a volunteer department, we went through the public complaints about washing cars on training night about 15 years ago. We haven't washed personal vehicles ever since." — Rob Farris
"After 5 p.m. it's our time. We wash/clean our cars. Maybe do a project. Work out to stay in shape. Just like most people when they get home after 5 p.m., except we are still at work ready to respond to any emergency." — Jim R. McCloud
"My ret. LT told me it's allowed as long as the FDs trucks are washed first." — George Budzicki
"Also gone are the days of having beer or liquor at the station house and having a nice, ice-cold one after a grueling incident." — George Mochizuki
"So long as no piece of apparatus is dirty and everything else is done for the day … but bring your own soap." — John Bishop
"I run a second full-time job detailing cars inside the firehouse. If you have a blue light, I do the interior for free." — Alex Griff
"We're a private fire department owned by a water board. We are allowed to wash vehicles as long as it's after normal business hours." — William Medley
"As the senior guy, I had a policy that the rig better be clean before you even think of washing your personal vehicle." — Jim Butler
"We used to be able to wash our vehicles on duty … until Portland made headlines and ruined it for us. Thanks PF&R, now I have to wash my truck on my own time with my own soap and water." — Mitch Gibson
"We are permitted as long as it's done during off time and doesn't interfere. Nobody has yet to complain to us that I know of, but I know a few neighboring departments had complaints about their members wasting time and such washing vehicles." — Jason Rippentro
Tell us how your department handles personal activities on shift, and we may include your comment in an article. Add yours below. 
---

Read next:
Poll analysis: What is your department's policy for personal activities while on duty?
A recent news story out of Portland sparked a debate about what activities should and should not be allowed while on shift at the station